The lawsuit challenges provisions of Florida's recently approved Senate Bill 1718, which makes transporting an undocumented immigrant a third-degree felony.
---
A coalition of immigrant rights advocates have filed a lawsuit challenging a recently enacted Florida law that restricts the legal rights of undocumented immigrants and their families.
The plaintiffs named in the lawsuit include, but are not limited to, the following:
The Southern Poverty Law Center;
The American Civil Liberties Union;
The American Civil Liberties Union of Florida;
Americans for Immigrant Justice; and
The American Immigration Council.
Collectively, these organizations claim that Florida's Senate Bill 1718 is discriminatory and jeopardizes the rights and well-being of everyone in the Sunshine State.
"This lawsuit is going to seek an injunction, looking to stop the implementation of Section 10 [of Senate Bill 1718]," Southern Poverty Law Center attorney Paul Chavez said.
Section 10, CBS News notes, refers to the following legislative text:
"A person commits a third-degree felony when he or she knowingly and willfully transports into this state an individual whom the person knows or reasonably should know has entered the United States in violation of the law and has not been inspected by the federal government since his or her unlawful entry from another country."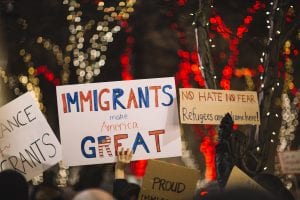 In a statement published to the Southern Poverty Law Center's website, Chavez said that Senate Bill 1718 is broadly unconstitutional, insofar as Florida is attempting to claim jurisdiction over immigration-related enforcement—enforcement that has, in modern times, been the sole purview of the federal government.
"This attack on our immigrant communities will not stand. Purposely designed to inflict cruelty, SB 1718 is unconstitutional and undermines our democracy. The sole and exclusive power to regulate immigration policy is granted by the U.S. Constitution to the federal government, not the states," Chavez said.
"Gov. [Ron] DeSantis' attempt to create a separate, competing state-run immigration enforcement system impedes the federal government's ability to do its job. This bill's punitive effect will erode public safety and public health, pushing millions of mixed-status families into the shadows, and making them ripe for exploitation," he added. "When people fear reporting crimes or seeking medical treatment, this impacts us all. We are committed to ensuring that immigrants are treated fairly, equally and with dignity."
ABC News reports that some Florida legal professionals, and law enforcement officials, have said that S.B. 1718 is overly ambiguous, to the point where many people are unsure of the extent to which violations can be prosecuted.
Nevertheless, American Civil Liberties Union attorneys have encouraged immigrants across the state to know and exercise their rights.
"[Immigrants] do not need to provide their legal status. They do not need to answer questions," said A.C.L.U. staff attorney Maite Garcia. "They can respectfully ask for the presence of an attorney, whether it's an immigration attorney or a criminal defense attorney and do not have to engage with law enforcement."
"Even though we may be undocumented," Garcia said, "we have rights as humans and we can ask that we're respected. Sometimes laws aren't enforced as they are written; sometimes it's worse."
Sources
Immigrant advocates announce federal lawsuit against Florida's so-called "anti-migrant" law
LEGAL ADVOCATES TO FILE LAWSUIT CHALLENGING THE CONSTITUTIONALITY OF FLORIDA'S ANTI-IMMIGRANT LAW
Ron DeSantis Faces Legal Challenge Over Anti-Immigration Law
Undocumented workers face uncertainty as immigration law takes effect in Florida