A spokesperson for Iran's foreign ministry said that Rezaian should be grateful for getting to go home.
---
Iran says it won't honor a U.S. court order that it pay Washington Post reporter Jason Rezaian over $180 million in damages.
Rezaian, reports CBS News, was on assignment in Tehran when he was accused of espionage. He spent 544 days—nearly a year and a half—behind bars, eventually released as part of a prisoner exchange in January 2016.
After being released, Rezaian filed a lawsuit against Iran. In his complaint, Rezaian said he'd wrongfully imprisoned and tortured. All the while, his imprisonment was condemned by governments and activists around the world.
Rezaian told The Guardian that he was regularly threatened with death.
"It was the constant anxiety of, 'Are they going to kill me, are they going to keep me forever or am I going to be released tomorrow?'" Rezaian said. "You don't know what to believe. That's the method. That's the torture."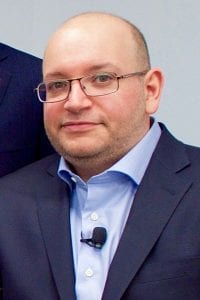 Washington-based U.S. District Judge Richard J. Leon rendered a verdict in Rezaian's case late last week. In his ruling, Leon noted that the captive journalist had been denied sleep and medical care. Iran, it seems, meant to use Rezaian as leverage against the U.S. government.
"Iran seized Jason, threatened to kill Jason, and did so with the goal of compelling the United States to free Iranian prisoners as a condition of Jason's release," Leon wrote.
"Holding a man hostage and torturing him to gain leverage in negotiations with the United States is outrageous, deserving of punishment and surely in need of deterrence," Leon added.
However, Iran never responded to or acknowledged the lawsuit. It remains unclear how Rezaian might claim the funds awarded last week. CBS notes that Leon's order didn't propose a solution—hypothetically, Rezaian might try pursuing the Iranian government for the amount, or draw from a fund established by the U.S. government to compensate victims of state-sponsored terrorism. That fund, says CBS, was "used to distribute money to victims of Iran's 1979 student takeover of the U.S. Embassy" in Tehran.
Rezaian named Iran's Revolutionary Guard as a defendant in the case.
While Iran didn't take steps to defend itself from Rezaian's suit, a spokesperson for its foreign ministry called the case itself "strange."
"Mr. Jason Rezaian […] was a security convict and the Islamic Republic of Iran commuted his [sentence of maximum punishment] to imprisonment," said Abbas Mousavi. "He was pardoned and despite having an open case […] was released."
"This was a favor that the Islamic Republic of Iran did for him," Mousavi added, saying that Rezaian could've been imprisoned for longer and punished
Sources
American reporter Jason Rezaian, held by Iran for 544 days, awarded $180M for captivity, torture
Iran rejects court order to pay freed U.S. journalist Jason Rezaian $180 million