Juul has always stuck by its story of creating a product intended solely for adult users. But a New York Times analysis shows how the company's growth came from direct appeals to young consumers.
---
Facing mounting litigation, Juul Labs is buckling down, insisting that it never marketed or knowingly sold e-cigarettes to underage teens.
According to The New York Times, Juul's top executives have always stood behind its claims of non-culpability. Instead, the company has repeatedly stressed that its products are intended for adult users. Juul, like many other e-cigarette manufacturers, believes its vapes and nicotine pods can act as an aid to individuals trying to give combustible tobacco.
While Juul no longer claims that its e-cigarettes are completely safe, they're still posited as a comparably healthy alternative to traditional tobacco. As the New York Times notes, smoking still kills close to 500,000 adults in the United States each year.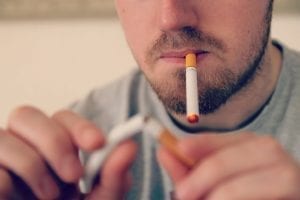 "We never wanted any non-nicotine user and certainly nobody underage to ever use Juul products," said one of the company's co-founders, James Monsees.
However, a Times' analysis suggests what many regulators have long suspected—that Juul Labs never meant to limit its market to adult smokers.
Instead, Juul's rapid-fire rise occurred only after it shifted its aim to young users. Today, as the Times reports, consumers in their 20s and 30s are among the least likely Americans to smoke cigarettes. Juul may have prioritized wining over such young consumers, with addiction a long-term investment.
While the Food and Drug Administration provides a restrictive list of checks for companies seeking to advertise combustible cigarettes and tobacco chew, it's lacked the regulatory equipment to clamp down on vaping. Only last summer did the FDA order Juul to put nicotine warning labels on its product packaging.
In plotting Juul's "astronomical" growth, The New York Times found that, as late as 2015, e-cigarette sales were falling flat. Juul—then called Pax Labs—was facing extensive criticism from its investors, who'd anticipated more growth and better sales.
Late the same year, the company's board of directors ousted Monsees and Juul's top leadership. Over the next two years Juul recorded explosive sales, totaling more than $1 billion by the end of 2018.
Juul, says the Times, was valued at $38 billion as late as last year–more than Ford Motor Company.
As Juul's sales expanded, so too did its popularity among young users. The Times claims, in Juul's heyday, "there was plenty of evidence of teenage use on social media that should have been apparent to a company that had made social media the core of its marketing strategy." Innumerable tweets featuring Juul products and vape-related hashtags showed that "juuling had quickly become a fad among high school students, long before the company acknowledged that there was a problem."
At the same time—from its Pax days in 2013 forward—the company's engineers were experimenting with ideal nicotine configurations. A single Juul pod, says The New York Times, could contain a nicotine level of up to 5%, the equivalent of a pack of cigarettes.
That nicotine experience, adds the Times, "was key to attracting smokers to any e-cigarette, but mention of nicotine was only in tiny, hard-to-read letters in the print ads for Juul's initial marketing campaign."
[TO BE CONTINUED]
Sources
How Juul Hooked a Generation on Nicotine
Juul Illegally Marketed E-Cigarettes, F.D.A. Says
U.S. doctors' group says just stop vaping as deaths, illnesses rise