JPMorgan Chase agreed to settle a case over paid parental leave for new fathers earlier this week.
---
JPMorgan Chase recently agreed to settle a gender discrimination case filed by a group of male employees. According to the suit, the men were discouraged from taking paid parental leave to help care for a new child. One of the organizations that represented the men, the American Civil Liberties Union, believes nearly "5,000 fathers were denied extended leave."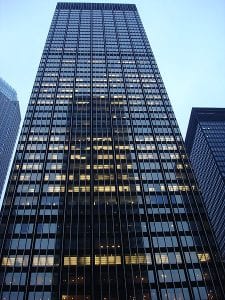 The lawsuit was particularly notable because it's one of the first filed by male employees over parental leave benefits and rights. So what happened, exactly? What kind of policy did the bank have in place? Well, according to the suit, the bank's paid parental leave policy seemed generous on paper. For example, "it offered 16 weeks of paid leave for a new child's primary caregiver and two weeks off for secondary caregivers." However, when fathers attempted to take their 16 weeks of primary care leave, they were allegedly "discouraged by managers and told the company considers mothers the main caregivers," according to the settlement filed Thursday.
One of the men who participated in the suit was Derek Rotondo. Rotondo worked as a fraud investigator with the company. In July 2017, he filed a complaint with the U.S. Equal Employment Opportunity Commission (EEOC) shortly after the birth of his second child. When he asked for "14 weeks off as the child's primary caregiver, human resources staff told him that birth mothers are what we consider as the primary caregivers." Additionally, he was told that, "as a father, Rotondo needed to prove that his wife had returned to work for him to get more than two weeks of paid leave." However, Rotondo's wife, who is a teacher, "already had the summer off," so he couldn't prove that. As a result, he ended up taking "several weeks of unpaid leave," according to the suit.
As part of the settlement, JPMorgan agreed to grant him "16 weeks off and reached a settlement to compensate all other fathers who were denied extended paid leave between 2011 and 2017." On top of that, the bank agreed to ensure that "both men and women can take the longer leave benefit offered to a baby's primary caregiver."
In a statement regarding the settlement, Galen Sherwin, an attorney for the ACLU's Women's Rights Project said:
"We expect this settlement will have a ripple effect. It will put other companies on notice that they need to take a hard look at their own parental leave policies to ensure that they are not only gender-neutral on their face, but also are implemented in a way that neither encourages nor discourages people to use it based on their gender."
It's important to note that organizations like the ACLU's Women's Rights Project view policies that discourage men from taking parental leave a burden on women's careers. In fact, part of Rotondo's complaint pointed out that "JPMorgan's parental leave policy discriminates not only against men, but also against women." The complaint stated:
"It relies upon and enforces a sex-based stereotype that women are and should be caretakers of children, and that women do and should remain at home to care for a child following that child's birth. while men are not and should not be caretakers and instead do and should return to work shortly after the birth of their child."
Sources:
JPMorgan Chase is giving $5 million to fathers who were discouraged from taking parental leave
Victory for Fathers in a Parental Leave Case That Could Be a Harbinger