Judge says Oklahoma needs to prove that settlement funds from opioid litigation comply with a new state law.
---
Cleveland County Judge Thad Balkman, appointed by governor Mary Fallin, is declining to approve Oklahoma's settlement with an opioid maker until he can be assured it will comply with a new arrangement  imposed by the legislator regarding such deals.  The majority of the settlement funding with Purdue Pharma was originally to be put aside for research and treatment of addiction at Oklahoma State University, while some of it was to go towards treatment medication and the cities and attorneys involved in the case.  Concerned with this arrangement, however, the Republican-led Legislature passed instructions demanding funds be deposited into the state's treasury instead.
Balkman ordered attorneys for both the state and Teva Pharmaceuticals to file additional paperwork before he approves the settlement due to this newly imposed procedure.  Attorney General spokesperson Alex Gerszewski says the judge "wants both sides to address how distribution of the money" is will comply with the new arrangement.
Oklahoma's lawsuit blaming consumer products giant Johnson & Johnson (J & J) and some of its subsidiaries for contributing to the opioid epidemic is continuing, but a settlement would also need to comply with the new standards.  Attorney General Mike Hunter had said previously he believes J & J acted as the kingpin in the sale of addictive opioids that ultimately led to the nation's crippling epidemic.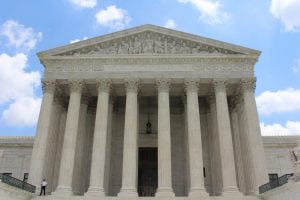 "If one takes a closer look at the portfolio of the 'family company,'" Hunter argued, "they will find that it produced raw narcotics in Tasmanian poppy fields, created other active opioid ingredients, and then supplied the products to other opioid drug manufacturers like Purdue Pharma."  He added, "J&J targeted vulnerable populations, including children and older adults, for painkiller prescriptions.  J&J funded groups that aggressively advocated for easy access to opioids…[The company has also] funded several pro-opioid groups, such as the Pain Care Forum."
Editor's note: AG Hunter incorrectly associated the tag line "family company" with J&J. The tagline belongs to SC Johnson. Please see the statement issued by Kelly M. Semrau, Senior Vice President, Global Corporate Affairs:
"Oklahoma Attorney General Mike Hunter incorrectly associated a critical part of our trademark tagline, "A Family Company," when referencing Johnson & Johnson in the state's opioid legal filing. SC Johnson is a separate, privately-held company and has never had any family or business connection with Johnson & Johnson. SC Johnson does not manufacture or sell pharmaceutical products. The comment does a disservice to the goodwill earned by generations of SC Johnson people and our iconic brands."
"If you oversupply, people will die," said Brad Beckworth, who represents the Oklahoma attorney general's office as the state argued J & J's sales team deceived physicians for years, baiting them into funding a nationwide crisis.  Beckworth said, "J & J convinced doctors to start with and stay with medications intended only as a last resort," such as fentanyl.
He added, "Through greed and deceptive marketing practices, J & J aggressively competed with Purdue Pharma, which used a similar approach for OxyContin." Beckworth cited the company's promotional materials, which long praised the benefits of opioids.  "Everywhere in the decision tree about prescribing or taking an opioid," Beckworth said, "J & J was there first."
In 2009, when J & J's promotional materials said that opioids "rarely caused addiction," the Food and Drug Administration (FDA), the company argued, had made the same assertion.  J & J's defense team argued that "each drug meticulously took a decade to develop; that the company and federal regulators continued to monitor the drugs after launch; that the state, through licensing doctors and pharmacists, had its own oversight responsibility; and that the company's goal all along was to aid millions of patients with chronic pain."
"We feel confident in our case," Hunter stated. "We'd like a jury of Oklahomans to hear our evidence and determine the extent to which these companies should be held accountable for what's happened in Oklahoma."
Sources:
Oklahoma Judge Wants More Answers on $85M Opioid Settlement
Oklahoma Faces Off with Johnson & Johnson in Opioid Trial
Purdue and Sacklers Settle Oklahoma Opioid Case for $270 Million