Purdue Pharma and the Sackler family have reached a settlement with the state of Oklahoma. Two other defendants remain, Johnson & Johnson and Teva Pharmaceuticals. 
---
Purdue Pharma and its owners, the Sackler family, have agreed to a $270 million settlement with the state of Oklahoma in its lawsuit claiming OxyContin contributed to an opioid epidemic.  This marks the first settlement in a number of civil suits accusing Purdue Pharma of deceptive marketing in its promotion of the highly addictive opioid.  There are approximately 2,000 lawsuits still outstanding against opioid makers nationwide with more than 1,600 of them are consolidated before federal judge Dan Polster, appointed by Bill Clinton, in Cleveland. Oklahoma was one of 37 states that sued the drug makers.
Most of the settlement funds will be used for research and treatment of addiction at Oklahoma State University, while some of the money will be set aside for treatment medication and the cities and attorneys involved in the case.
Oklahoma's lawsuit had contended that the opioid crisis required it to spend more money on health care initiatives, law enforcement and treatment due to the creation of a "public nuisance" that harmed the health of its citizens.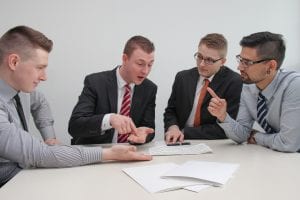 "We feel confident in our case," Oklahoma Attorney General Mike Hunter, who filed the lawsuit in 2017, originally stated. "We'd like a jury of Oklahomans to hear our evidence and determine the extent to which these companies should be held accountable for what's happened in Oklahoma."
Purdue had said it "continues to have active discussions with attorneys general and is fully engaged with the multidistrict litigation process…to help communities address the opioid crisis," adding, "We believe strongly in our defense, and we believe we will prevail once the full facts are presented."
Two other defendants that remain in the case brought by Oklahoma are Johnson & Johnson and Teva Pharmaceuticals.  It is unclear whether the parties will be able to settle at this point.  Hunter previously said he believes Johnson & Johnson (J&J) actually acted as the kingpin, "serving as a top supplier, seller and lobbyist" driving the crisis.
"If one takes a closer look at the portfolio of the 'family company,'" Hunter argued, "they will find that it produced raw narcotics in Tasmanian poppy fields, created other active opioid ingredients, and then supplied the products to other opioid drug manufacturers like Purdue Pharma."  He added, "J&J targeted vulnerable populations, including children and older adults, for painkiller prescriptions.  J&J funded groups that aggressively advocated for easy access to opioids…[The company has also] funded several pro-opioid groups, such as the Pain Care Forum."  The trial will give J&J a chance to defend its position.
Alexandra Lahav, a professor at the University of Connecticut School of Law, said Purdue Pharma was likely in settlement talks in other lawsuits that have been brought against it. "This may be the start of the dominoes falling for Purdue," Lahav said.
Other companies also may feel pressure to settle because of this outcome, said Elizabeth Burch, a professor at the University of Georgia School of Law and may choose to not push forward with their defense.  "It's got to set off a feeding frenzy," she said. "There's blood in the water now."
Sources:
Purdue Pharma reaches $270M settlement with Oklahoma in opioid epidemic suit
Oklahoma Trial Underway Against Opioid Manufacturers