Rittenhouse has vowed to fight back, noting that the plaintiff had pointed a gun at him.
---
A man who was shot in the arm by Kyle Rittenhouse during the Kenosha protests in 2020 has filed a lawsuit against Rittenhouse and Wisconsin police officials.
According to FOX News, plaintiff Gaige Grosskreutz—who admitted that he pointed a firearm at Rittenhouse before the then-teenager shot him and two others—is seeking compensation and "damages for emotional distress, humiliation, loss of enjoyment of life, and other pain and suffering on all claims."
The lawsuit criticizes the Kenosha Police Department's apparent tolerance for Rittenhouse and other armed counter-protesters.
"Astonishingly, the Kenosha Police Department, Kenosha County Sheriff's Department, their supervising officials and police officers, and law enforcement officers from surrounding communities did not treat Defendant Rittenhouse or any of the other armed individuals patrolling the streets as a threat to the safety of themselves or the citizens they were sworn to protect," the lawsuit alleges.
"Instead, the law enforcement Defendants deputized these armed individuals, conspired with them, and ratified their actions by letting them patrol the streets, armed with deadly weapons, to mete out justice as they saw fit,'" says the lawsuit.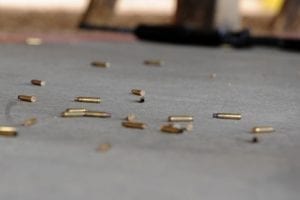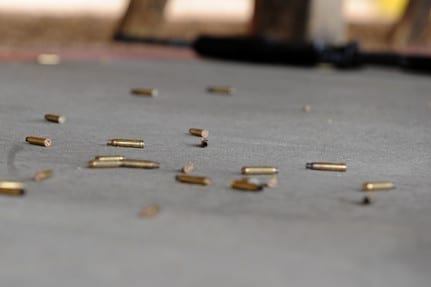 Rittenhouse has since told Fox Digital News that he is ready to "prove [his] innocence again," but signaled that he will likely seek compensation from Grosskreutz if he prevails.
Rittenhouse, writes FOX News, traveled from his hometown in Illinois to Kenosha in August of 2020.
Armed with an AR-style semiautomatic rifle, Rittenhouse said that he wanted to "protect" local businesses from Black Lives Matter protesters.
During the protests, Rittenhouse was confronted by several Black Lives Matter supporters, who disagreed with his choice to carry a firearm.
After the confrontation escalated, Rittenhouse opened fire on nearby protesters, killing two and injuring Grosskreutz.
During Rittenhouse's homicide trial, Grosskreutz testified that he had been pointing a pistol at Rittenhouse when the then-17-year-old shot him in the arm.
Grosskreutz told prosecutors that he had his hands raised and did not intend to shoot Rittenhouse.
Speaking to FOX News, Rittenhouse said he is surprised that Grosskreutz—who pointed a gun at him—is now filing a claim for compensation.
"I guess it came as a shock to why he's filing a lawsuit, because he admitted that he pointed a gun in my face and that he chased me down," Rittenhouse said.
However, Grosskreutz's lawsuit alleges that the Grosskreutz "approached with his hands in the air to try to ease the situation and stop the killing."
"Defendant Rittenhouse instead shot Mr. Grosskreutz in the bicep, leaving a gaping wound," the complaint states. "Thankfully, Mr. Grosskreutz did not die that day. But he must live with the physical and emotional wounds inflicted by Defendant Rittenhouse and the Defendants who deputized and enabled him. The conduct of the Defendants in this case directly caused Gaige Grosskreutz's injury."
Sources
Kyle Rittenhouse hit with lawsuit from man he shot during 2020 Kenosha clash: 'Little bit of a shock'
Kyle Rittenhouse vows to 'prove my innocence again' after man he shot in the arm during 2020 Kenosha riots sues him for 'emotional distress and humiliation' despite testifying that he pointed his firearm first