The lawsuit suggests that Warren police used unreasonable force to detain a 17-year-old car thief who had attempted to evade law enforcement by fleeing to another city.
---
The family of an African-American teenager has filed a lawsuit against a Michigan police department, claiming that Warren officers used excessive force in the course of an arrest.
According to The Associated Press, body-camera footage from the involved officers shows that the teenager was pulled from his vehicle, thrown on the ground, and then repeatedly punched.
Now, attorneys for 17-year-old Tyler Wade said that their client suffered a concussion and blurred vision.
The officers also knocked Wade's braces off.
"I have extreme headaches, dizziness especially in the back of my head at night time before I go to sleep and whenever I stand up I feel dizzy," Wade said.
When Wade was on the ground, officers allegedly kicked him; another unholstered a firearm and pointed it at the teenager.
Wade, adds MLive.com, was arrested at the end of a vehicle chase; officers had pursued him into the nearby Detroit suburb of Ferndale.
After Wade stopped the vehicle, officers pulled him out of the passenger-side door and then attempted to arrest him.
The teenager, notes MLive.com, can be heard telling officers that he is not resisting arrest—all while they continued to beat him.
Attorneys for Wade say that officers violated the teenager's civil rights.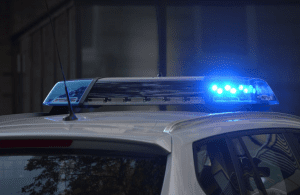 "Whenever I see a cop out or outside of the car, I'm just looking at him always. I don't even trust him anymore," Wade said.
"I don't even like to leave the house anymore," Wade told the media. "I'm scared of the police."
Warren Police Commissioner Bill Dwyer said in June that one of the officers appears to have violated the department's use-of-force policies.
While the officer was suspended, Dwyer stated that there was "no question in my mind" that Wade was clearly resisting arrest.
Attorney Sahar Faraj, who is representing Wade, said that officers unfairly and violently attacked a child.
"The brutal reality of the assault that Tyler, a 17-year-old child, suffered at the hands of the Warren police officers, a group of grown men, is not an uncommon occurrence for people who look like Tyler," Faraj said.
The family, adds MLive.com, is seeking unspecified monetary damages; they have also asked that several of the involved officers be removed from the force.
"Although this is common to people who look like Tyler, it is no longer tolerated or no longer occurs in a vacuum," Faraj said.
Wade, who was accused of receiving a stolen vehicle and evading arrest, has pleaded no contest to the charges against him.
[note: WXYZ News reports that Wade and his family are seeking an estimated $20 million in damages for emotional pain and suffering]
Sources
Lawsuit filed against Warren police as video shows cops punching teen multiple times
New body camera footage shows Warren police officers punch, kick 17-year-old during arrest
Teen suing Warren Police Department for $20M, alleging excessive force
'This video is sickening,' attorney says of Detroit teen punched, kicked by Warren police