A female Wells Fargo employee is suing the firm over allegations of gender discrimination.
---
A female manager at Wells Fargo Securities LLC filed a lawsuit against the company in the Los Angeles County Superior Court over allegations that she experienced and witnessed "widespread gender discrimination within the firm, including male employees calling a female client a 'fat pig.'" The plaintiff is Vanessa Carney.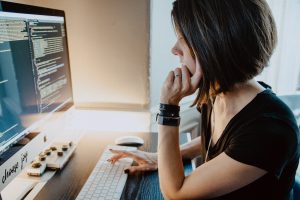 The complaint states, "Wells Fargo's commitments to diversity and inclusion of women are window dressing and hollow gestures." Additionally, Carney alleges the "firm paid her less than her male colleagues, refused to promote her, and removed her from her business unit in retaliation for her complaints about allegedly biased behavior." 
The complaint states:
"Despite all of its virtue signaling, Wells Fargo's insidious discriminatory conduct results in the sidelining of successful, long-term female employees, all while providing a 'free pass' to their male counterparts who engage in serious and substantial misconduct."
To make matters worse, when Carney asked to relocate to Los Angeles from New York, the company allegedly "only granted her request…on the condition that she accept a significant demotion that would only further inhibit her career prospects." Carney experienced this treatment despite working for Wells Fargo for more than 16 years, according to the suit. 
Because of her treatment, the suit is accusing the firm of "gender discrimination and disparate treatment; failure to pay equal wages; retaliation; failure to prevent discrimination and harassment, intentional discrimination, negligent and intentional infliction of emotional distress," and is seeking general and special damages, liquidated damages, punitive damages, injunctive relief, pre- and post-judgment interest, attorneys' fees, and costs.
Carney is represented by John Singer. Singer is a partner and co-founder of Singer Deutsch LLP. When commenting on what Carney went through, and continues to experience, he noted "there is still only a paucity of women in senior leadership roles at most investment banking institutions." In an emailed statement, he said that gender bias is particularly insidious and added:
"Antiquated and fallacious stereotypes about women traders and salespeople are still harbored and fostered by a large swath of males in coveted positions of power on Wall Street and, to a large degree, despite theoretical advances in HR policies and statutory protection, women are still regrettably treated as second class citizens on Wall Street."
Despite reaching out to her supervisors and filing complaints with her HR department, nothing was done to put a stop to the discrimination. Carney claims that Wells Fargo's HR department "turns a blind eye to claims of gender discrimination, and that racist comments continue unfettered in the workplace."
Sources:
Wells Fargo Workers Called Female Client 'Fat Pig,' Suit Says (1)
Female Wells Fargo Manager: Firm Favors Men, Male Coworkers Call Female Client 'Fat Pig'