One of the first of many lawsuits was recently filed against Intercontinental Terminals Co. in the aftermath of a large fire in Deer Creek.
---
Four residents in La Porte are suing Intercontinental Terminals Co. in the aftermath of a recent "fire at a chemical facility in Deer Park that burned for nearly four days." As a result of the fire, the plaintiff's are seeking $2 million in punitive damages because they argue the company's negligence "led to the plaintiffs being severely harmed and made sick by ITC's conduct and have sought medical attention for the injuries they suffered from the incident." Additionally, the suit claims the fire exposed the plaintiff's to "toxic chemicals from the release and had physical symptoms due to this release."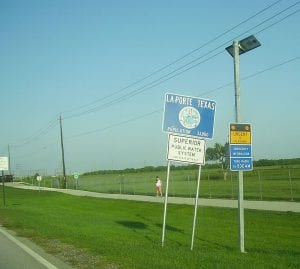 What kind of chemicals were released during the fire? What are the specific damages claimed by the lawsuit? For starters, the lawsuit claims that even after the fire was extinguished, "benzene continued to emit from the ITC facility and caused a shelter-in-place for Deer Park residents after they were told they were safe" As a result, the four plaintiff's are claiming the following damages, according to the lawsuit:
Conscious physical and mental pain and suffering and anguish, past and future
Loss of enjoyment of life and peace of mind, past and future
Loss of wages/earnings
Loss of enjoyment of real property and homes, and loss/diminution of property value, past and future
Reasonable and necessary medical, counseling, psychiatric, therapeutic and related expenses, past and future
The suit is seeking a jury trial and hopes to recover monetary damages, including funds to cover the costs of litigation.
One of the plaintiffs is Rogelio Lopez, represented by attorney Benjamin Roberts. According to Lopez, he and his family live about three miles from where the fire occurred. Because it took so long for the fire to extinguish completely, Roberts claims Lopez and his family were directly impacted and suffered because of it. Roberts added:
"As they're in the area, they're continuing to breathe the air and experiencing the symptoms to where they start to feel sick."
In fact, Lopez and his family became so ill from the effects of the fire that they had to seek medical attention. Roberts said, "Since the fire, the family has experienced throat irritation, eye irritation, and skin irritation. nausea and headaches."
More lawsuits are expected to follow the one filed earlier this week. Roberts said:
"When there's a release like this, when there's a fire and the smoke plume, the wind blows every different which way. It's really quite frightening because we're not how many of our neighbors have been affected by this."
Sources:
La Porte residents file lawsuit against ITC after chemical facility fire
ITC Plant fire spreads to multiple tanks, shelter-in-place remains for Deer Park