The plaintiffs claim Coffee Creek staff enabled an alleged sex predator to abuse inmates for years.
---
A series of multi-million dollar lawsuits claim that sexual abuse and rape were "widespread" at Coffee Creek Correctional Facility, Oregon's only all-women's prison.
The claims, writes the Statesman Journal, are made by five current and former inmates. All of them say they were raped, groped and assaulted by an on-site nurse, Tony Klein.
While they posit Klein as a prolific predator, the women say staff did nothing in response. Complaints about Klein allegedly date back years. But administrators ignored the accusations, sometimes even retaliating against inmates who made them.
An investigation by the Oregon State Police found 11 inmates who claim they've had sexual encounters with Klein. But prosecutors demurred, saying they lacked sufficient evidence. Slamming several accounts as unreliable, the D.A. scrapped the case, calling it "unsupportable."
No charges were filed against Klein, but the 34-year old nurse resigned from his position at Coffee Creek early last year.
"Tony was very kind and nice and helpful," one female plaintiff told the Statesman Journal. "That's how he gained my trust."
But while he may have gained it, the woman said he also abused it. Recovering from a respiratory infection in January 2017, she didn't 'think twice' about visiting Klein's clinic. Once she got there, Klein purportedly cornered her in an exam room and groped her.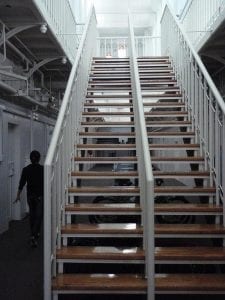 Five months later, he did the same thing again.
"I tried to shove it away and forget about it and it worked for a while," she said. "I blamed myself."
She says she was encouraged to take action after confiding in a friend, who told her, "You're not the only one. You have got to tell someone."
And she did, initiating legal action within months of her release.
Other women involved in the suit say that Klein's abuse was compounded by Coffee Creek's lackluster response.
"The response from the Department of Corrections was the scariest part of the whole situation," Melissa Vitellaro told the Statesman Journal. Vitellaro claims she first met Klein in 2010, shortly after her stint behind bars began. She says he tried to grope and assault her twice—once in 2013, and again in 2017.
She suggests that Klein had a bad reputation but that Coffee Creek didn't seem to think much of it. Other women who'd reported the nurse were later put on lockdown, losing earned privileges and prevented from receiving visitors.
Vitellaro recalls that prison staff said the restrictions were for women's own safety.
When Oregon State Police began investigating, they identified nearly a dozen other inmates who'd had, or claimed to have had, sexual contact with Klein. But the nurse himself denied the allegations, citing his belief that the women were "setting him up" to get money.
Prosecutors say that even if some of the stories sound believable, the case lacks substantiation isn't worth pursuing.
"While it may be true that some of these inmates did, in fact, engage in sexual activity with the defendant, the information we have is too unreliable to present to a jury," Deputy District Attorney Rayney Meisel said.
"It appears clear that there would be a great deal of evidence to support the defense that these allegations were false attempts at extorting money from the Department of Corrections."
Attorneys for the five women suing the prison say there are more alleged victims preparing to file their own lawsuits.
Sources
Former Coffee Creek Inmates Allege 'Widespread' Sex Abuse, Rape
LAWSUITS SAY STATE IGNORED SEXUAL ASSAULTS AT WOMEN'S PRISON
'You're not the only one': Former Coffee Creek inmates allege 'widespread' sex abuse, rape