From 2016 to 2018, financial institutions and franchisors were among the most active plaintiffs in federal contracts litigation disputes, while financial institutions were the most active defendants.
---
Lex Machina, a LexisNexis company and creator of the award-winning Legal Analytics® platform, has released its first Federal Contracts Litigation Report, which illuminates trends and insights from more than 146,000 commercial and non-commercial U.S. District Court cases over the last decade. The report draws upon the most comprehensive and accurate dataset available for analyzing breach of contract and other common-law claims litigation in federal courts. To request a full copy of the report, please visit http://pages.lexmachina.com/Contracts-Report_2019_LP-Web.html.
The Federal Contracts Litigation Report highlights trends in case filing volume, case timing, resolutions, top jurisdictions, the most active parties, damages and more for cases in which at least one party is asserting a breach of contract claim, or at least one claim is based on a business tort such as fraud, conversion, or tortious interference with contract between two business entities. 
The report reveals a general downward trend in federal contracts litigation case filings in the decade after the 2008-2009 recession. During the three-year period from the beginning of 2016 to the end of 2018, financial institutions and franchisors were among the most active contract plaintiffs, led by BMO Harris Bank (129 cases) and Branch Banking and Trust Company (76 cases), primarily for loan defaults, and Days Inns Worldwide (46 cases) and Choice Hotels International (32 cases), primarily for breach of franchise agreements. The United States was also a top plaintiff (96 cases) during that period. In many cases, the government was suing to recover on promissory notes issued in connection with loans made by various US agencies such as the Small Business Administration.
Financial institutions were among the most active defendants in 2016–2018 – led by Bank of America (240 cases), Wells Fargo Bank (173 cases) and Ocwen Loan Servicing (144 cases) – in cases ranging from business loan defaults to real estate foreclosures to negotiable instruments.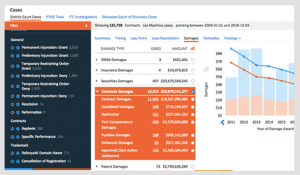 "Since we expanded our Commercial module late last year to include tens of thousands of non-commercial cases, contract litigators have gained unprecedented insight into broad trends and granular details pertaining to their practice area," said Karl Harris, CEO of Lex Machina. "Because federal contracts litigation is so broad and dispersed, with no one judge or jurisdiction claiming the lion's share of cases, the report validates how indispensable Legal Analytics has become for helping attorneys find the cases that are most similar to theirs in order to craft winning case strategies for their clients." 
Among the report's other filings:
Damages Trends:
Nearly $5.2 billion in contracts damages, over $936 million in tort compensatory damages and over $872 million in class action settlement damages were awarded from 2016 to 2018, with an additional $1.2 billion paid in prejudgment interest.  
The case with the most contracts damages awarded at trial was September 2017's Epic Systems v. Tata Consultancy ($280 million), followed by $200 million in contract damages awarded earlier that year to ZeniMax Media and id Software after Oculus VR breached a non-disclosure agreement.
General Trends: 
The top jurisdiction for federal contracts litigation case filings from 2016 to 2018 was the Central District of California (nearly 7.5% of filings), followed by district courts in New York, New Jersey, Illinois and Florida. 
Of all contracts litigation cases terminating in 2016 to 2018, 64% were settled or voluntarily dismissed. During this time, claimants won in 14% of the cases, with the largest portion (6%) winning by means of default judgment. 
Claimants won at summary judgment in 1,155 cases versus only 744 cases won by defendants.
The proportion of claimant wins was even greater at trial, where claimants won in 530 cases and defendants won in only 176 cases.
Franchise and Negotiable Instrument Trends:
Franchise and negotiable instrument cases terminating 2016-2018 had higher rates of default judgment than contracts litigation cases overall (13% and 11% respectively).
Franchise trends: Franchise cases resolved by settlement or voluntary dismissal 59% of the time, which is slightly lower than with contract litigation cases overall. However, 13% of franchise cases are resolved by a default judgment, which is high compared to the overall rate of default judgments in contracts litigation cases (6%). Claim defendants (typically franchisees) won only 3% of the time, with most of those wins occurring at summary judgment.
Negotiable instrument trends: Claimants won 24% of the time, mostly by means of default judgment (11%), followed by summary judgment (8%).
Negotiable instrument case filings fell by over 10% annually from 2011 until 2015, and have since continued to fall, albeit at a slower rate.
The report data was compiled using Lex Machina's award-winning Legal Analytics® platform, which is used by nearly 80% of the top U.S. law firms and major corporations such as eBay, Facebook, General Motors, Microsoft and Nike. Lex Machina's Federal Contracts Litigation module can be used to uncover insights into case timing, resolutions, findings, damages and remedies, as well as deliver actionable intelligence on opposing counsel, law firms, parties, judges, venues and other data that plays a critical role in determining case strategy. 
About Lex Machina
Lex Machina's award-winning Legal Analytics® platform is a new category of legal technology that fundamentally changes how companies and law firms compete in the business and practice of law. Delivered as Software-as a-Service, Lex Machina provides strategic insights on judges, lawyers, parties, and more, mined from millions of pages of legal information. This allows law firms and companies to predict the behaviors and outcomes that different legal strategies will produce, enabling them to win cases and close business.
Lex Machina was named "Best Legal Analytics" by readers of The Recorder in 2014, 2015 and 2016, and received the "Best New Product of the Year" award in 2015 from the American Association of Law Libraries. It was named a 2017 "Legal A.I. Leader" by the National Law Journal, and was recently a finalist in Legalweek's 2018 Product Innovation Award competition.
Based in Silicon Valley, Lex Machina is part of LexisNexis, a leading information provider and a pioneer in delivering trusted legal content and insights through innovative research and productivity solutions, supporting the needs of legal professionals at every step of their workflow. By harnessing the power of Big Data, LexisNexis provides legal professionals with essential information and insights derived from an unmatched collection of legal and news content—fueling productivity, confidence, and better outcomes. For more information, please visit www.lexmachina.com.