Three of Maddin Hauser's attorneys were recently promoted to shareholders of the firm as a result of their outstanding service to clients.
---
Southfield, Michigan based Maddin, Hauser, Roth & Heller, P.C., is pleased to announce the promotion of attorneys R.J. Cronkhite, Kevin M. Henry and Jesse L. Roth to shareholders of the firm.
The announcement was made by the firm's President and CEO, Steven D. Sallen. "R.J., Kevin and Jesse exemplify our firm's values through their commitment to providing clients with expert advice and high-quality, cost-effective legal results. We are pleased to promote them to shareholders and look forward to the more prominent roles they will each take within the firm," stated Sallen.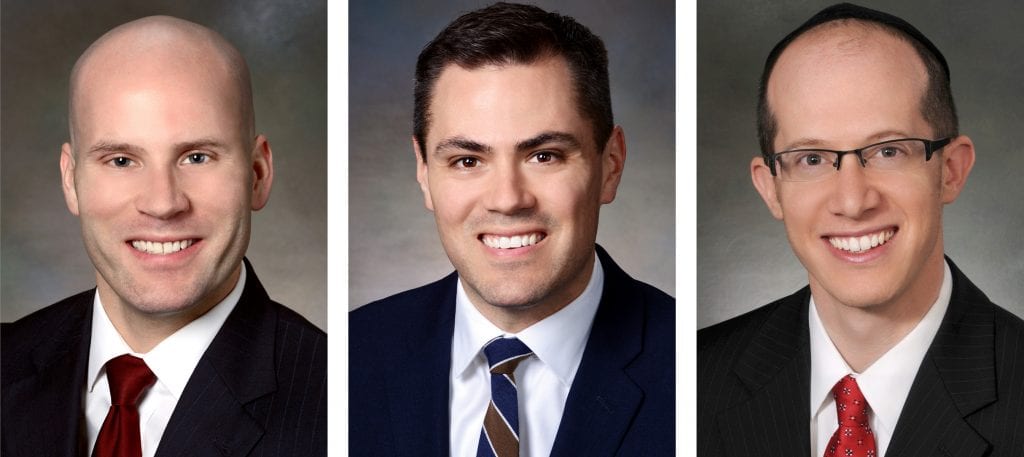 R.J. Cronkhite is a member of the firm's Complex Litigation and Risk Advisory Practice Group. He specializes in technology disputes, shareholder litigation and enforcement of employment agreements, including non-compete and non-solicit provisions. Cronkhite is a board member of the Southfield Area Rotary Club. He serves as Chair-Elect of the Michigan State Bar Litigation Section Governing Council and is a Fellow of the American Bar Foundation. Super Lawyers® has listed Cronkhite as a Michigan Rising Star.
Kevin M. Henry is a member of the firm's Corporate and Real Estate Practice Groups. He advises clients on real estate matters including acquisitions and sales, leasing, finance, and property development. Henry also represents businesses on a wide range of corporate matters including entity selection, company formation, asset and stock deals, buy-sell agreements, and succession planning. Henry has served as a director on multiple professional and public service boards and currently serves as Chairman of the Oakland County Bar Association's Tax Committee. In 2014, the Wisconsin Law Journal recognized him as an Up and Coming Lawyer.
Jesse L. Roth is a member of the firm's Appellate and Defense and Insurance Coverage Practice Groups. He has appeared before various trial-level and appellate fora on a range of issues including professional liability, labor and employment, class actions, consumer litigation, and complex torts.  He has written numerous articles and essays including, "Spokeo, 16 Months Later," published in the fall 2017 edition of the State Bar of Michigan Litigation Journal.
With more than 90 years of legal expertise concentrating on representation of business enterprises, as well as the real estate, insurance, and financial services industries, Maddin, Hauser, Roth & Heller, P.C., delivers result-focused legal services founded upon a responsive, expert, cost-effective and "no-nonsense" practical approach. For additional information, please visit maddinhauser.com.