The horse's owners want Maximum Security's victory to be reinstate and the prize money redistributed.
---
The owners of Maximum Security, the Kentucky Derby-winning horse stripped of its title, are filing a lawsuit against the competition's organizers.
Lodged Tuesday at the U.S. District Court in Frankfort, Gary and May West are suing the Kentucky Horse Racing Commission along with its members, staff and stewards. Collectively, the horse's owners are seeking recompense from anyone and everyone involved in the decision to void Maximum Security's victory.
ESPN notes that the horse was indisputably the first to cross the finish line at the 145th Kentucky Derby earlier this May—but Maximum Security's victory was short-lived after officials dismissed the first-place winner for interference.
Country Horse, which originally came in second, ended up taking the title instead.
According to ESPN, the Wests' lawsuit is primarily seeking to undo the interference call: they want the decision reversed and Maximum Security's prize reinstated. If the courts rule in the Wests' favor, they may be able to reclaim the $1.86 million which would've been theirs as the original winners of the Kentucky Derby.
The suit, notes ESPN, demands that the financial prize be redistributed among Gary and May West, jockey Luis Saez and trainer John Servis.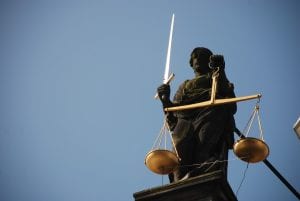 In the complaint, the Wests slam the disqualification process as "bizarre and unconstitutional." The lawsuit notes that there's no practical way to dispute the Kentucky Horse Racing Commission's determination—a deprivation likened to a lack of due process rights.
An initial petition to appeal the commission's judgment was denied earlier in the month.
"As a result of the disqualification," the lawsuit claims, "the trainer and jockey of Maximum Security were denied any part of the $1,860,000 share of the Derby purse as well as a professional accomplishment that any horseman would cherish for life, plus the very substantial value that a Kentucky Derby winner has as a stallion."
The call to knock out Maximum Security was made after Saez was already being interviewed by the media.
But the Derby claimed interference, as Maximum Security had veered into another horse. That move, some commentators were quick to note, wasn't likely one that Saenz himself had engineered—rather, it was probably just an inexperienced Maximum Security's nervous reaction to a roaring crowd.
Nevertheless, the commission also took action against Saez, suspending him from racing for 15 days for "failure to control his mount and make the proper effort to maintain a straight course thereby causing interference with several rivals."
Saez is also expected to appeal his suspension.
The Kentucky Horse Racing Commission purportedly declined ESPN's request for comment.
Sources
Maximum Security owners sue over Derby DQ