Mi Casita Sports Bar was recently named in a wrongful death lawsuit after its security guards placed an unconscious man in the parking lot, where he was ran over by an intoxicated patron.
---
The Mi Casita Sports Bar in Columbia recently came under fire in a new wrongful death lawsuit. According to the suit, security guards working for the sports bar allegedly "placed an unconscious man in the way of a car driven by a drunk bar customer, who then ran over and killed him." The suit itself was filed earlier this week in Richland County and charges the death of the unconscious man, Troy Anderson, 49, was "avoidable and happened only because of the bar's negligent security measures."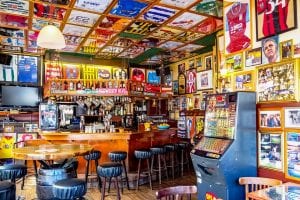 As a result of the incident, Anderson died from "massive trauma to the head, torso, and extremities," according to the Richland County Coroner's Office.
But what happened? How did Anderson end up unconscious outside? According to the suit, Anderson visited the establishment on October 5, 2017. During his time there, he was "negligently detained, handled and engaged by the security team causing him to become unconscious and placing him in harm's way." From there, security guards put him outside in the parking lot.
Around the same time, a "visibly intoxicated patron of Mi Casita left the bar and proceeded to get in her car," according to the sheriff's department. It turns out, employees at the sports bar had "continued selling alcoholic drinks to the person despite her increasing intoxication" and despite knowing she would be getting behind the wheel of her vehicle "with her faculties and judgment grossly and dangerously impaired." The suit states:
"The patron was unable to operate her vehicle safely and…thus ran over the unconscious body of Anderson."
The suit further alleges that the sports bar broke the law when it continued to "sell alcohol to a drunken person." Additionally, the bar failed to "provide an alternative means of transportation and it failed to train employees to recognize signs of intoxication and to sell alcohol more responsibly."
The woman who allegedly ran over Anderson was 24-year-old Latonya Watson. She was arrested "two weeks after Anderson's death and charged with murder and leaving the scene of a deadly accident." Currently, she's being held at the Alvin S. Glenn Detention Center and has not been released on bond.
While the recent suit only names the Mi Casita Sports Bar as a defendant, Watson could still be a "potential witness in any civil trial." Her lawyer has yet to respond to requests for comment. Mi Casita also has yet to respond to requests for comment.
Sources:
Lawsuit: Mi Casita sports bar guard let car kill customer 
Guards at Columbia sports bar let car run over, kill unconscious customer