The African-American plaintiff claims that she was hired as a part-time taproom manager but ordered to wait tables and paid the same rate as a server.
---
A Michigan woman has filed a lawsuit against Founders Brewing, alleging that she was subjected to "egregious" racial harassment while working in the company's Detroit taproom.
According to WOOD-TV, the lawsuit was filed hours before Founders announced that it would permanently close its Detroit location.
"Unfortunately, our Detroit location has not been immune to the struggle to regain foot traffic after temporary Covid closures that have impacted restaurants and bars across the nation," Founders wrote in a statement.
The unexpected closure was announced on Monday, hours after the African-American plaintiff filed her complaint in U.S. District Court.
The employee, identified by The Detroit Free Press as Naeemah Dillard, claims that she was subjected to "egregious racial harassment" in the Detroit taproom.
While Founders maintains that it made its decision to close the taproom before learning of the lawsuit, an attorney for Dillard has voiced some skepticism.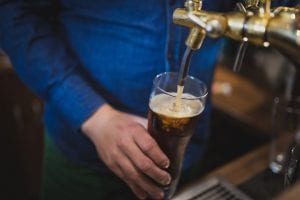 "Ms. Dillard spoke openly about her racially hostile treatment to Founders during her exit interview just last week," Schulz told the Free Press. "It is difficult for me to objectively accept that Founders' abrupt announcement to permanently close the Detroit taproom mere hours after Dillard's complaint was filed as being due to COVID-19."
"My immediate thoughts are with the large number of employees who were just terminated without any notice or time to prepare," Schulz added.
The Detroit taproom, adds the Detroit Free Press, employed more than 38 workers.
However, Dillard claims that workers were treated differently.
Dillard, for example, applied for a taproom management position—during an interview, a Detroit general manager allegedly said that it would be "great optics" to hire a "person of color."
But after Dillard began working, she was given no actual managerial responsibilities and was required to work as a server.
Dillard was also paid as a server, despite having been hired as a part-time manager.
In her complaint, Dillard cites examples of other employees telling her to ensure that her 6-year-old daughter did not "steal any money," and that she "doesn't struggle enough to be Black."
The plaintiff also claims that other workers intentionally mispronounced her name; when she complained, her hours were reduced.
Attorneys for the woman say that, "in light of the objectively racially hostile and hopeless work environment," their client was forced to tender her resignation in April.
"Ms. Dillard's treatment was objectively horrendous," Schulz said. "Even worse, when she reported it to management, her hours were slashed in half or the complaints were completely dismissed."
While Founders may be a popular company, WOOD-TV notes that this is the second racial discrimination claim filed in relation to alleged harassment in the Detroit taproom.
The taproom closed temporarily in 2019, for instance, when a Black employee complained that he was disciplined more harshly than his White co-workers.
The same employee also said that he was frequently targeted with racial slurs.
Dillard, notes the Detroit Free Press, filed a racial discrimination and retaliation complaint with the U.S. Equal Employment Opportunity Commission the day after she was fired, and initiated her civil lawsuit just over a week later.
Sources
Another discrimination lawsuit filed against Founders Brewing
Founders Brewing Co. faces another racial discrimination lawsuit as Detroit taproom closes