Three companies affiliated with Hunt Military Communities were recently hit with a lawsuit over poor living conditions.
---
Three companies affiliated with Hunt Military Communities that manage housing at Joint Base San Antonio-Randolph Air Force Base were recently hit with a lawsuit by five military families. To date, it's the second suit filed in the last two years that allege poor housing conditions at the Texas base.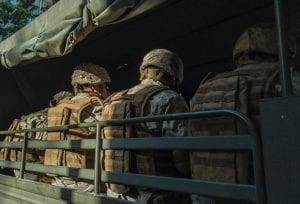 According to each family, they signed leases between 2016 and 2018. Each family was told the home "they were renting was safe and had no unresolved issues," according to the suit, which was filed back on December 29 in the Western District of Texas. After moving into the homes, "the families learned the homes had long-standing maintenance issues." For example, the suit argues the houses "exposed the families to dangers such as lead paint, mold, roach infestations and sewage that led to health problems including difficulty breathing, asthma, bronchitis, serious allergic reactions, nosebleeds, and gastrointestinal issues." When the families took their complaints to the companies, maintenance only "provided band-aid measures that did not solve root problems in the homes."
The plaintiffs include: James C. Hill Jr. and his wife, Kari D. Hill, and their three children; Michael English and his wife, Elldwinia English, and their seven children and one grandchild; Sean Skillingstad and his wife, Ressia Skillingstad, and their two children; Rodolfo Castillo and his wife, Latasha Castillo, and their five minor children and minor nephew; and Bradley Oliver and his wife, Deborah Oliver, and two children.
When commenting on the matter, Jennifer Neal, one of the attorneys representing the families, said, "There is a common theme here of reporting serious problems that any landlord should know could lead to health problems." Neal is an attorney with Watts Guerra. She added:
"An overwhelming number of our clients have said, 'We reported mold, they came in, sprayed bleach on it, painted over it and called it a day.' That's simply not how you remediate mold properly. It's a pattern and practice of the privatized military housing companies. We have clients who were on these bases over a span of many years, so it's clearly something that's been going on for a while."
At the moment, the suit is requesting a trial by jury and is seeking "compensation for past and future damages, along with economic damages, mental anguish damages, reasonable and necessary attorney fees and costs of court."
Shortly after the suit was filed, a spokesperson for Hunt said:
"The company takes these matters extremely seriously and is focused on providing our residents with healthy and comfortable homes…The company has introduced reforms and initiatives to improve living conditions, including at Randolph Family Housing…One initiative referred to as the Humidity Project is designed to assess units for excess moisture and take corrective action when necessary. The project includes the 300 historic homes managed by Hunt at Randolph…The work has produced positive results in reducing humidity levels in the homes that have been completed to date…We remain committed to operating transparently and will continue to work collaboratively with the families we house, legislators and other advocates to ensure that we are best serving our military families' housing needs across our properties."
Sources:
Second lawsuit filed for poor housing conditions at Randolph AFB in Texas
Cockroaches, mold, raw sewage: 8 military families sue privatized housing company