The 63-year-old plaintiff claims that he was arrested and convicted on the basis of coerced eyewitness testimony.
---
A Missouri man who spent 40 years in prison for a triple murder he did not commit has filed a lawsuit against the Kansas City Police Board of Commissioners, claiming that local law enforcement spearheaded the reckless investigation that led to his wrongful arrest and conviction.
According to FOX News, plaintiff Kevin Strickland, 63, filed his lawsuit earlier this week in Jackson County Court.
The lawsuit lists defendants including the Police Board of Commissioners and five former Kansas City Police officers.
In his complaint, Strickland claims that officers attributed "false statements" to him and pressured the only eyewitness to the killings to identify him as the murderer.
"When attempts to pressure Strickland into confessing failed — because he was innocent — Defendants falsely attributed inculpatory statements to Strickland that he did not make," the lawsuit alleges.
Amanda Green, an attorney representing Strickland, said that her client would not have been convicted had Kansas City police conducted a fair and proper investigation.
"The only evidence used to implicate Mr. Strickland in this case was the product of police misconduct," Green said in a press release.
Strickland, adds FOX News, was released from prison in November 2021 after a judge found that he was wrongfully convicted of a 1978 triple homicide.
Strickland had long maintained his innocence, saying that he had been home watching television when the murders were committed.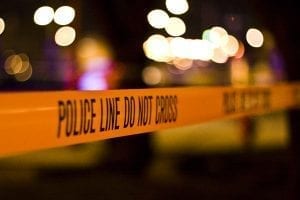 National Public Radio-Kansas City reports that Strickland spent an estimated 43 years behind bars—the longest recognized wrongful imprisonment in Missouri state history.
Strickland, now 63, was convicted of the killings when he was 18 years old; he was released shortly after his 62nd birthday.
"He's lost his entire adult life," Green said in a statement. "This lawsuit seeks to hold the Kansas City Police Department accountable for that. There has been a longstanding issue in the Kansas City Police Department, in its policing and misconduct, that has caused extraordinary damage in cases of Mr. Strickland and others."
National Public Radio notes that, after Strickland's conviction, the only eyewitness to the killings told friends and family that Kansas City police officers had pressured her into identifying Strickland as a suspect.
The persons actually involved in the crime had also said—repeatedly—that Strickland was not involved in the murders.
Green said that Strickland could not have been convicted without the Board of Police Commissioners' complicity.
"There is no way that this level of misconduct could have taken place in a case like this one, with this much high-level involvement, without the leadership of the police department at the highest level knowing about it," Green said.
Sources
Kevin Strickland alleges 'reckless investigation' by police in civil lawsuit
Kevin Strickland says KCPD misconduct caused him to be wrongfully imprisoned for 43 years