The On-Q Pain Relief System may be an effective pain management solution for new mothers hoping to avoid prolonged opioid use.
---
37-year-old Katrina Bowman's blood pressure started rising one day in 2018 when she was seven months into a pregnancy that had not been an easy one.  Bowman had suffered severe preeclampsia and was told a cesarean section (C-section) was likely the only solution to ensure her baby was delivered without complications.  Sure enough, her daughter, Kinley, was delivered via a C-section prematurely a short time later.
"I wanted a C-section," said Bowman, a nurse at OhioHealth Riverside Methodist Hospital. "It's probably the surgical nurse in me…Surgery is my life.  It seemed more controlled and planned out."
Instead of opting for opioids to numb her pain, however, she knew she wanted to enter the "On-Q Pain Relief System," informally called the "pain ball" by many medical personnel.  The pain ball delivers a nonaddictive anesthetic through a catheter directly to surgical incisions, and it's an opioid alternative being used to help moms who have had C-sections handle post-surgery discomfort while offering a solution to the addiction epidemic.
Bowman was up and moving within 24 hours after her daughter was successfully delivered.  "It was amazing," she said.
Dr. Anita Somani has been an OBGYN for more than twenty-five years.  Somani said the problem of patients become addicted to prescription opioids lies in the amount of opioids they are given and how long the medication is prescribed.  "Most studies show that if you only take [opioids] for seven days and you don't get refills, you're less likely to then become addicted.  It's the people who are getting multiple prescriptions, they tend to become more dependent."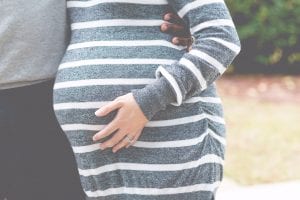 State officials have implemented a number of changes in recent years to shift guidelines and better monitor narcotics prescriptions with a focus on reducing the amount provided as the optimal solution to the crisis.  There were 225 million fewer doses dispensed between 2012 and 2017, according to the Ohio Department of Health.
"We prescribe less narcotics, and our patients are using less narcotics," Somani said. "That's the goal, to adequately treat pain without creating a situation where someone becomes dependent."
Megan Little, a nurse and territory manager for Georgia-based Avanos Medical, the maker of On-Q said, "The pain is still there.  It just makes you not care about the pain.  It doesn't directly treat the pain sensors or block pain signals…It more treats the mental aspect of the body and providing that sedation and relaxation…If narcotics are used over time, it takes higher doses to achieve the same effect for some patients."
However, the pain ball uses an anesthetic, rather than an opioid, that is designed to be nonaddictive.  A thin catheter delivers the medicine into incision areas.  The device is carried in a small bag, and patients remove the catheter themselves after a few days.  The device has been in use for twenty years for many different types of surgeries, and Somani is among those physicians who have adopted it for C-sections.  She has also cut the number of pain pails prescribed to new mothers, from a standard ten day supply of forty pills to a five day supply of twenty.  The On-Q helps numb the pain for about five days, and she prescribes painkillers for the next five.
"We've cut it in half," she said. "I won't say never, but it's very rare that someone calls back" (for a refill).
Joe Woody, the CEO of Avanos Medical, said,  "Non-opioid approaches to pain management continue to be an important issue in the healthcare industry, particularly in light of the opioid crisis…As a leader in non-opioid treatment for acute pain, we are committed to continuously improving our ON-Q pumps to deliver increased quality of life and satisfaction to all patients."
Bowman has assisted in placing pain ball catheters for years, so she was familiar with the setup.  After her surgery, with the help of an On-Q, she was up and moving quickly.  "It's a great alternative solution," she said.
Sources:
'Pain balls' cut opioid use in new moms after C-sections
Avanos Medical to reduce opioid use with pain management pump