Pain physician has his license revoked and is asked to leave the U.S. after sexual assault allegations are brought against him.
---
Abhishek Jain, 40, a St. Louis County physician who admitted to sexually abusing women at pain clinics, has had his license to practice medicine in Missouri revoked.  Jain is originally from India and agreed to surrender his license and voluntarily leave the United States instead of being deported back to his home country.
Prior to the license revocation, the doctor was sentenced in January of this year to thirty days in jail and five years of probation for pleading guilty to two felony counts of second-degree sodomy and two misdemeanor sexual abuse charges.  The sentence was part of plea deal between prosecutors and the defense.
Jain worked at Interventional Pain Management Services.  The crimes occurred in 2017, during a time in which he was already in trouble in three other states but could continue practicing under probation. A woman, 60, said Jain "groped her breasts and genitals during an exam for chronic pain," and another woman, 61, also told police Jain groped her.  Both women stopped the exam and left, according to police records.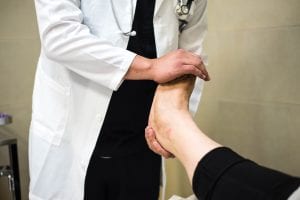 Jain had been previously kicked out of a residency program in the state of Maine and had been denied a medical license in Kansas.  He later applied for licenses in California and Missouri.  Jain was originally turned down for a Missouri license in 2013.
The Missouri State Board of Registration for the Healing Arts noted a series of disturbing incidents, including allegations by a former colleague that in May 2015 Jain cornered her in a supply room and assaulted her.  She filed a lawsuit against the hospital, which terminated Jain and settled her case.  He maintained before the board that he never assaulted the alleged victim, although he did admit to being in the supply room with her.  Jain insisted he asked her to dinner, and she refused – that was it.
Later that same year, in October, Jain was arrested in South Portland, Maine, on child endangerment charges.  A witness called police after spotting a crying child alone in a car parked in a lot.  Police said Jain ran out of a store as soon as they arrived on the scene, opened the door and shouted at the child.  Maine prosecutors would eventually enter a plea deal with the doctor, allowing the charges to be dismissed for a $200 fee and a promise that he would stay out of trouble for a year.
The Kansas panel questioned Jain about his termination from his residency program in Maine.  He claimed to have had problems that amounted to nothing more than minor incidents, including tardiness and not responding to some messages, and the board determined Jain's explanation "fails to disclose and misrepresents the grounds for the disciplinary actions" taken by the residency program.
When Jain later applied for a license in California, the board decided to grant him a probationary license.  Then, in late 2016, Missouri allowed him to practice under the same license.  Less than a year after being authorized to practice in Missouri, the two victims stepped forward.
Sources:
Abhishek Jain, Maryland Heights Doctor Charged with Sodomy, Has a Troubled Past