The lawsuit claims that TikTok showed young children potentially dangerous content on their curated "For You" page.
---
The parents of two young girls who died after partaking in a so-called "blackout challenge" on TikTok have filed a lawsuit against the controversial social media platform.
According to NBC News, this is the second time in recent history that TikTok has faced allegations that it allowed or tolerated potentially life-threatening challenges.
In their lawsuit, the parents of 8-year-old Erika Renee Walton of Temple, Texas, and 9-year-old Arriani Jaileen Arroyo, of Milwaukee, Wisconsin, say their daughters died after trying to complete the so-called TikTok "blackout challenge," which encourages social media users to choke themselves until they lose consciousness.
The victims' parents are jointly represented by the Social Media Victims Awareness Law Center, a legal clinic that broadly seeks to "hold social media companies legally accountable for the harm they inflict on vulnerable users."
In their complaint, the plaintiffs assert that TikTok's algorithm failed to properly warn underage users and their parents that the social media platform could unintentionally push an "unacceptably dangerous video" to the children's "For You" pages.
The "For You" page, adds NBC News, shows individual users curated content based on their past viewing histories and interactions.
Arianni's parents said that their daughter had originally downloaded TikTok to post videos of herself dancing and singing.
However, she quickly became fascinated by viral challenges.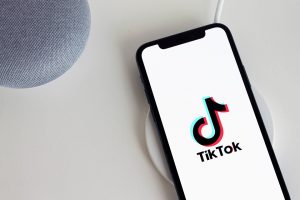 "Because many of these TikTok challenges involved eating and dancing, Arianni's parents did not regard them as dangerous," the lawsuit said.
Nevertheless, more insidious content appears to have worked its way onto both girls' "For You" pages.
"TikTok has specifically curated and determined that these Blackout Challenge videos—videos featuring users who purposefully strangulate themselves until losing consciousness—are appropriate and fitting for small children," the lawsuit states.
"TikTok needs to be held accountable for pushing deadly content to these two young girls," said Social Media Victims Law Center founding attorney Matthew P. Bergman. "TikTok has invested billions of dollars to intentionally design products that push dangerous content that it knows are dangerous and can result in the deaths of its users."
While TikTok has refused to comment on the pending litigation, a spokesperson for the company referred NBC News and other media outlets to a statement it released on November 10, after another 10-year-old girl allegedly died after trying to complete the "blackout challenge."
"This disturbing 'challenge,' which people seem to learn about from sources other than TikTok, long predates out platform and has never been a TikTok trend," a TikTok spokesperson said in a statement. "We remain vigilant in our commitment to user safety and would immediately remove related content if found. Our deepest sympathies go out to the family for their tragic loss."
Sources
Families sue TikTok after 2 girls die attempting controversial 'blackout challenge,' lawsuit claims
Parents sue TikTok over deaths of two girls after 'blackout challenge'