Patient dies of bedsore in Jackson Hospital. Jury finds hospital responsible and awards the family $5 million.
---
A Montgomery County jury deliberated for less than two hours before returning a unanimous verdict of $5 million against Jackson Hospital in a lawsuit filed by the family of a woman who developed a large bedsore during the final few months of her life in 2015.  Alice Mae Reed was admitted to the hospital in August of that year and died just a few months later in November.  The family alleged "that the hospital failed to properly turn and reposition her while she was bedridden, causing a pressure ulcer that left her in significant pain."  The patient's medical chart was also "falsified to reflect care that had not actually been provided."
Attorneys for the family, Brett Turnbull of Turnbull Law Firm and Andrew Moak of Alexander Shunnarah Personal Injury Lawyers filed their case back in October 2015, and their lawsuit alleged, "Reed was admitted to Jackson Hospital in August 2015…and the hospital failed to properly turn and reposition her in bed, causing her to contract a large and intense pressure ulcer on her lower back and upper left arm."
There are four stages of sores, according to Johns Hopkins, with Stage 4 being the worst.  In this stage, "The area is severely damaged, and a large wound is present.  Muscles, tendons, bones, and joints can be involved.  Infection is a significant risk at this stage."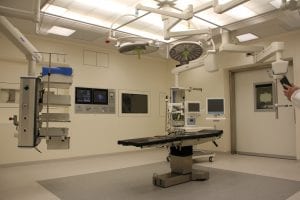 Since Reed was mostly bedridden, the bedsore had deepened over time and the ulcer that developed as a result of neglect caused her significant pain and suffering at the end of her life, and the lawsuit further alleged.  It stated the "hospital workers knew Reed was a high risk for pressure ulcers, yet did not follow its own preventive policies."  It was especially unfortunate that the policies were in place and the staff was trained, but proper care was still not administered.
Johns Hopkins explains that the elderly are at increased risk of bedsores due to limited mobility and sores can be correlated directly with quality of care.  "Bedsores can be a serious problem among frail older adults.  They can be related to the quality of care the person receives.  If an immobile or bedridden person is not turned, positioned correctly, and given good nutrition and skin care, bedsores can develop.  People with diabetes, circulation problems, and poor nutrition are at higher risk…Once a bedsore develops, it can take days, months, or even years to heal.  It can also become infected, causing fever and chills.  An infected bedsore can take a long time to clear up.  As the infection spreads through your body, it can also cause mental confusion, a fast heartbeat, and generalized weakness."  In some cases, like this, an untreated sore can be fatal.
Turnbull said Reed's "suffering was unnecessary and completely preventable," while Moak said Reed "was further harmed by Jackson Hospital's choice to falsely document the care it provided to her."
The hospital has denied any wrongdoing.  It responded it "vigorously disputes the plaintiff's allegations, is disappointed in the verdict, and plans to appeal."
Sources:
Jury awards family $5M in Jackson Hospital lawsuit