A patient is awarded $3.7 million in a lawsuit against a surgeon accused of negligence.
---
A Tilden man and his wife have won a civil lawsuit against Norfolk surgeon, Dr. Thomas M. Beutler, following a legal battle that began nearly four years ago.  Beutler was ordered by a jury to pay the couple $3,765,473.91 in economic and non-economic damages for a gallbladder surgery he performed in May 2013.  The Tilden man was 77 years old at the time of the procedure and suffered multiple life-threatening complications as a result of mishaps on the part of the surgeon.
The plaintiff said he experienced a number of uncomfortable symptoms following the operation, including "pain, fevers, and a non-functioning abscess drain," according to court documents.  The plaintiff was discharged from Faith Regional Health Services in Norfolk two days after his surgery despite the complications.  He stated in the lawsuit he "continued to experience symptoms…[and] was referred by Beutler to another doctor for additional evaluation and testing."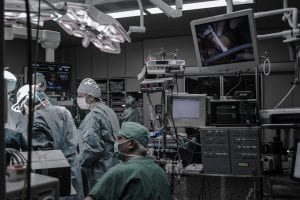 The plaintiff was readmitted to the hospital two days later, at which time it was found that his bile duct had been clipped in one area.  The lawsuit said Beutler decided the injury needed "urgent repair" and transferred the plaintiff to the University of Nebraska Medical Center in Omaha.  There, the medical team had to take measures to ensure no further damage occurred, and very likely, saved the patient's life.  If the mistakes had not been caught and he had not been transferred immediately to a new facility, the issues would have only worsened.
At UNMC, the Nebraska man received additional care, including other emergency operative procedures.  He and his wife filed a lawsuit against Beutler, Norfolk Surgical Associates, Norfolk Medical Group, and Faith Regional in February 2015, after the injuries had been remedied and the man was stabilized.  The hospital and Norfolk Medical Group were ultimately dismissed as defendants in 2016 and 2017, respectively.  Only Beutler was keep on as a defendant, and he ultimately paid the price.
Reviews from patients on Vitals.com of the Nebraska surgeon are mixed, which one patient posting, "Nice but not caring."  That patient goes on to say, "This was my 5th surgery and my first with Dr. Buetler, I'm used to the doctor coming in after the surgery to speak with me on how things went.  And he never did.  I'm young and this was a gallbladder removal.  I wasn't expecting him to just leave.  My follow up was very short and I have been having complications since the surgery.  I don't know maybe my [thoughts] will change down the road but past surgeon[s] never treated me as a no body like this guy did."
In his lawsuit, the plaintiff argued that Beutler and Norfolk Surgical, where Beutler worked at the time, were "negligent in failing to properly perform the surgery and to transfer him in a timely manner to another facility that could correct the complications."  The plaintiff said he sustained damages including "permanent injury to his bile duct, gallbladder, and liver."  There was also "scarring, and some permanent disability" he will have to live with for the rest of his life.  He is also seeking remedy for the subsequent hospitalizations he had to incur as a result of the injuries.
Following many continuances and hearings over the past four years, a jury was brought in on Monday, April 8. The trial concluded later that week on Friday afternoon, and the jury deliberated only about two hours before returning with a verdict in favor of the plaintiffs.
Sources:
Norfolk surgeon ordered to pay $3.7 million in lawsuit