Even if a cyclist injures you in an accident, there is still a chance that you are at fault for it. So, after a collision, an investigation will begin.
---
When you're a cyclist, there's always a risk of being involved in accidents where you're the victim. But you're not the only potential victim in a cycling accident – pedestrians can be injured too, especially if they are struck by you. When the pedestrian is injured, the situation will automatically involve more than just a few bad words addressed to you – the victim will understandably want compensation. 
But who is liable in an accident where a pedestrian was hit by a cyclist? Moreover, will the pedestrian be able to claim compensation in this case? Here's all you need to know. 
Cyclist Colliding with a Pedestrian – What Happens?
What is going to happen when a pedestrian is hit by a cyclist in an accident? Well, let's look at it by comparing it with a car accident. 
After a car accident, the victim can make a claim for compensation against the driver. He or she will collect evidence against the culprit and hire a lawyer, and if there's no settlement made out of court, the victim can take the driver to court. Drivers have insurance, so the claim will be made by the injured person against the driver's insurance company, asking to have the emotional, physical, and financial damages covered. 
But when a cyclist hits a pedestrian, things are a bit different. Unlike a driver, the cyclist will not have to get insurance. Does that mean that there is no way for the victim to obtain compensation in this case? Well, that's not true – the pedestrian will still have rights, and a claim can be made against the cyclist. 
How Do You Prove Liability as a Pedestrian?
Just like you do in car accidents, you must prove liability if you were hit by a bicyclist and you were not at fault for it. 
At all times, pedestrians should use sidewalks. All traffic signals must be obeyed. Now, while there are special bike lanes in some cases, they may not exist everywhere, so bicyclists use the sidewalk sometimes as a result, which can lead to accidents. 
If you can prove that the bicyclist was at fault for negligently entering the area while you were walking on the sidewalk or in a crosswalk lawfully, you may have a claim. But you should keep in mind that good proof is necessary to show that the cyclist was negligent. 
When Is Cyclist at Fault for a Pedestrian Accident?
Some cyclists have home insurance policies, which means that the pedestrian can make a claim against it. If you can prove that the bicyclist was fully responsible for the event, then you can recover some money easily. 
A cyclist might be considered liable if he or she:
Didn't yield the right of way
Had high speeds when riding the bike
Was distracting while cycling, either by their phone or something else
Ran a red light or a stop sigh
Was under the influence of alcohol/drugs while cycling
Had a bike that was badly maintained, which increased the braking distance
Didn't follow the road rules
Rode in the dark without using proper lights
Bear in mind that claiming compensation may be a bit difficult if the cyclist does not have insurance. Luckily, a law firm can check whether the bicyclist has insurance easily. All you need is the cyclist's name and contact details, which you can obtain at the time of the accident. However, if you need urgent medical care and can't get this information, the law experts will use other means to obtain it. 
When Is the Pedestrian to Blame?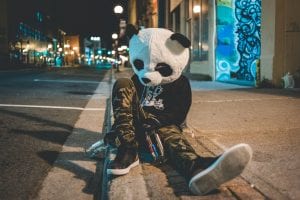 Even if a cyclist injures you in an accident, there is still a chance that you are at fault for it. So, after a collision, an investigation will begin. It will look at whether you or the cyclist are to blame. 
For instance, if the bicyclist was distracted or didn't follow the rules of the road, he or she may be liable. Meanwhile, if the pedestrian ran into the bike lane all of a sudden, the cyclist might be completely innocent and you'll be at fault. It depends on the situation.
Final Thoughts
Every year, around 50,000 bicyclists are injured, while 700 die in accidents. In other cases, pedestrians were struck by a cyclist, leading to injuries. If you live in Oregon and you were injured by a cyclist in a bike accident, you'll be able to claim compensation if proven innocent. Hundreds of cyclists die or are injured in the state annually, and those who end up with damage seek Portland bicycle accident lawyers to help them out.