A humanitarian turned pedophile is put behind bars. His 170 victims were children in a Haiti orphanage. They will receive $60 million.
---
Douglas Perlitz was the founder and director of Project Pierre Toussaint, a church-sponsored orphanage, in Haiti's north coast city of Cap-Haitien and "used the orphanage, closely associated with the Catholic Church and Fairfield University, to extort sexual favors from some of the most impoverished children in one of the poorest countries," according to a lawsuit that was filed on behalf of the children.  As many as 170 have been identified as being abused by convicted pedophile Perlitz and they will share a $60 million settlement "to be paid by Fairfield University; the Society of Jesus of New England; the Order of Malta, American Association, USA; Haiti Fund, Inc.; Father Paul E. Carrier, S.J.; and Hope E. Carter," according to court records, after an interim settlement was approved by a Senior U.S. District Judge Robert N. Chatigny, appointed by former president Bill Clinton, in Hartford.
Law enforcement officials have used the Perlitz case as an example to improve the country's efforts to prosecute United States' citizens who exploit children in foreign countries.
"This is a vindication of those victimized by this atrocity as well as those who are not yet known," said Joseph M. Champagne, the mayor of South Toms River, N.J., and a member of the Haitian Lawyers Leadership Network, after the pedophile was sentenced. "Now everyone knows that if you rape and sodomize someone in some other country you will be brought to the bar of justice."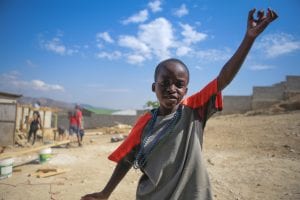 "We are grateful that this process is in its final stages and will provide closure for these brave young men," said New York attorney Paul J. Hanly Jr., co-lead counsel on the case with Boston lawyer Mitchell Garabedian. "The settlement will allow the survivors to move beyond these horrors, enable them to receive whatever counseling and aid they require, and move on with their lives, as best as they can."
If there is no successful challenge to the settlement in court, it will officially take effect on August 27, 2019.
Perlitz, who was Fairfield's 2002 commencement speaker, acknowledged in court that he had traveled to Haiti repeatedly for sexual purposes between 2001 and 2008, engaging in illicit sexual contact with eight boys, after pleading guilty to a single offense of sexually assaulting a child.
"Our country places a high value on defending citizens' individual dignity and protecting every child," U.S. District Judge Janet Bond Arterton, appointed by Bill Clinton, told Perlit when she eventually sentenced him to  nineteen years and seven months in federal prison for his "systematic and prolonged abuse of at least sixteen homeless boys," according to records.
Perlitz, through his charitable venture, offered boys as young as six years old homes, food, clothing, water to bathe in, and activities and education.  Donors contributed more than $2 million to the orphanage in the ten years leading to Perlitz's indictment in 2009.
In some instances, Perlitz "bribed children with gifts and money and, in others, he threatened them if they refused his demands."  Officials in Haiti said allegations of abuse surfaced in 2008, donations stopped, the orphanage closed, and the orphans were once again left homeless.
Sources:
Fairfield University, others liable for $60 million settlement ordered in Haiti orphanage abuse case