Some attorneys and activists accuse PG&E of leaving out individual victims to bolster their stock prices.
---
Pacific Gas and Electric (PG&E) has finalized an $11 billion settlement for insurance companies covering victims of several California wildfires.
Fox KTVU reports that the final agreement was announced Monday. It covers claimants who suffered damages in a series of wildfires that took place in 2017 and 2018, including one in Camp which killed 86 people.
"We continue to make progress on doing what's right for the communities, businesses, and individuals affected by the devastating wildfires," said PG&E CEO and President Bill Johnson. "PG&E remains committed to working with the individual victims to fairly and reasonably resolve their claims and will continue to work to do so while we remain focused on safely and reliably delivering energy to our customers, improving our systems and infrastructures, and continuing to support California's clean energy goals."
According to the Wall Street Journal, the settlement is the second major agreement the company has reached in the past several months. In June, PG&E said it'd pay $1 billion to local governments and state agencies affected by the wildfires.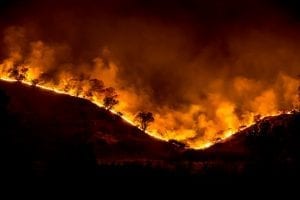 However, attorneys for some individual victims have been critical of PG&E's negotiations.
"PG&E is taking money out of the pockets of people whose homes and businesses it burned down and handing the money to insurance companies to buy their cooperation," said attorney Cecily Dumas. "This settlement violates the rights of victims under California law to be compensated first. The settlement shows that PG&E puts victims' needs last."
The WSJ notes that this month's settlement was negotiated with insurance carriers holding about 85% of insurance subrogation claims against Pacific Gas.
"This is just a blatant move on their part to help wealthy hedge funds and Wall Street," Patrick McCallum, co-chair of wildfire victims advocacy group Up From the Ashes, told Bloomberg. "They are more worried about their stock price and the hedge funds that hold their stock than the victims."
PG&E, for its part, believes $11 billion will be adequate to resolve any outstanding claims—those brought by insurance companies, as well as those filed by individual plaintiffs.
With its deal finalized, Pacific Gas will try recovering its losses. The public utility—which covers around 16 million Californians—declared bankruptcy at the beginning of 2019, citing the tens of billions of dollars in wildfire damages it may liable for.
In the meantime, PG&E has initiating a system-wide inspection of its infrastructure grid, repairing thousands of miles of wires. The company is also trying to balance demands from state legislators, claimants and its own shareholders, all of whom have an interest in seeing it returned to a stable financial footing.
Sources
PG&E announces final agreement in settlement with wildfire victims
PG&E Reaches $11 Billion Settlement with Insurers over Deadly Wildfires
PG&E's $11-billion settlement with insurers sets up a clash with fire victims