The Department of Homeland Security says it'll send undocumented 'family units' that can't claim fear of persecution across the border to Mexico.
---
The Trump administration is putting an end to "catch and release," a controversial immigration policy that allows migrant families detained at the U.S.-Mexico border to enter the United States.
According to National Public Radio, the policy change was announced Monday by the Department of Homeland Security.
"With some humanitarians and medical exceptions, DHS will no longer be releasing family units from Border Patrol Stations into the interior," Acting Homeland Security Secretary Kevin McAleenan said in a statement. "This means that for family units, the largest demographic by volume arriving at the border this year, the court-mandated practice of catch and release due to the inability of DHS to complete immigration proceedings with families detained together in custody—will have been mitigated."
In a separate statement, the department laid out exactly how it plans to implement its revised policy.
"If migrant family units do not claim fear of return, they will be quickly returned to their country of origin, in close collaboration with Central American countries," DHS said. "If they do claim fear, they will generally be returned to Mexico under the Migrant Protection Protocols (MPP)."
As NPR notes, the Migrant Protection Protocols let the federal government shunt asylum-seekers back into Mexico. Most spend months across the border, awaiting claims and court dates.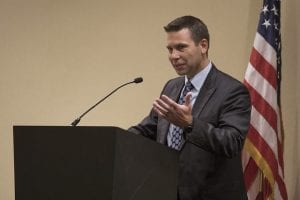 For President Trump, the shift may be a much-needed victory—the commander-in-chief, now the subject of impeachment inquiries for purportedly pressuring Ukraine to investigate 2020 presidential contender Joe Biden, has long been a critic of catch-and-release.
Trump—in what The Hill calls 'exaggerations'—has frequently used catch-and-release as a talking point. At rallies, he's often misrepresented the program as one which lets migrant families enter the U.S., never to show up for their eventual court dates.
"You have a program, catch and release: you catch them and then you have to release them," Trump said earlier in September. "And they're supposed to come back to court in the next three, four, five, six years, and nobody shows up."
Vox.com observes that, despite President Trump's claims, a majority of asylum-seekers do show up for their scheduled courts. Dara Lind told Vox that the White House's narrative lacks nuance.
"This White House tends to use [catch and release] … as a catchall term for any law or policy that prevents the federal government from keeping every single immigrant apprehended without papers at the U.S.-Mexico border from being processed (and, they're prefer, deported) as quickly as possible, and being kept in immigration detention in the meantime," Lind said.
Ending catch-and-release comes a week after the U.S. signed an agreement with El Salvador, allowing the Central American country to accept more asylum-seekers as a "safe third country."
(El Salvador, it should be mentioned, is at the epicenter of a regional gang crisis. The small nation has one of the highest homicide rates in the world and is an origin point for many refugees fleeing extortion and threats of violence)
Sources
Homeland Security touts end of 'catch and release' next week
Trump Administration To End 'Catch And Release' Immigration Policy, Says DHS Chief
The Trump administration will start sending most immigrant families arrested at the border back to Mexico