Dr. Walter Wrenn was recently named in a lawsuit alleging involuntary manslaughter after one of his patients died from an accident opioid overdose.
---
A doctor in West Philadelphia is under fire over charges of involuntary manslaughter after he "prescribed his patient a combination of opioids that resulted in an accidental overdose of cocaine, oxycodone, and morphine." An investigation was launched over the allegations that found Dr. Walter Wrenn, 80, "fabricated the patient's diagnosis in order for Keystone First to approve filling the prescribed medications," according to Attorney General Josh Shapiro.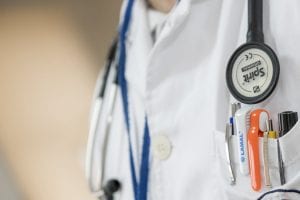 According to Shapiro, the "patient's opioid prescriptions far exceeded the recommended 90 milligrams per day." He added that on "Keystone First's authorization form, Dr. Wrenn stated that the patient had metastatic lung cancer, and received regular drug screens." However, a review of the medical records from the patient's family doctor, hospital admission records, and an autopsy report revealed that the patient didn't even have metastatic lung cancer.
When asked about the matter, Keystone First said it "relied on the information provided by Dr. Wrenn, and approved medications that were paid with Medicaid funds." Additionally, Keystone reported that "based on medical records received from Dr. Wrenn, there were numerous instances of insufficient or discrepant documentation in patient files to justify the prescriptions they were given from Dr. Wrenn."
On top of that, Keystone reported "concerns that Dr. Wrenn's prescribing contributed to the deaths of at least two Keystone members and resulted in overdose hospitalizations of at least five Keystone members." 
What happened exactly that resulted in the recent criminal complaint, though? How did the doctor's patient get so many different prescriptions? Well, according to the lawsuit, "the patient filled prescriptions for 60 units of Morphine, 180 units of Oxycodone, 90 units of Alprazolam, and 60 units of Temazepam" on March 2, 2019. The next day, the patient died from an accidental overdose of "cocaine, oxycodone, and morphine." Shapiro said:
"Dr. Wrenn had a duty to care for his patients, and he failed by recklessly prescribing highly addictive medications which continue to fuel overdose deaths across Pennsylvania…My office will continue to hold individuals accountable who knowingly put the lives of others at risk."
Agents with the Office of the Attorney General and the United States Drug Enforcement Administration (DEA) ended up arresting Dr. Wrenn earlier this month and charged him with "drug delivery resulting in death, involuntary manslaughter, violation of the Drug Act, recklessly endangering another person, tampering with public records and Medicaid fraud."
The case itself is being prosecuted by Eric Stryd, the Senior Deputy Attorney General.
Sources:
West Philadelphia Doc, 80, Charged In Patient's Cocaine, Oxy Overdose Death