The former professor alleges that she was fired simply because a single Muslim student–who had been warned about the pictures at the beginning of the semester–sent a complaint to the school's administration office.
---
A Minnesota-based university has asked a federal judge to dismiss the lawsuit filed by a former adjunct professor who claimed that she lost her job and was accused of being "Islamophobic" after she showed a picture of the Prophet Mohammed in her art history class.
According to KARE11, the painting is considered a "masterpiece" by some art experts.
However, many Muslims consider any depiction of the Prophet Mohammed as sacrilegious.
In her lawsuit, former adjunct professor Erika Lopez Prater claimed that Hamline University engaged in religious discrimination, reprisal and defamation after it rescinded its plan for her to teach further courses the following semester.
U.S. District Judge Kate Menendez is scheduled to hear Hamline's motion in mid-May.
KARE11 notes that, during an October class—held entirely online—Lopez Prater showed art history students "The Prophet Mohammed Receiving Revelation from the Angel Gabriel," a painting that the professor's lawsuit claims was made "by a Muslim for Muslims."
Prater Lopez maintains in her lawsuit that she had repeatedly warned students that an image of the Prophet could be shown later in the course.
Nevertheless, a Muslim student—Aram Wedatalla—filed a complaint against Lopez Prater with Hamline's administration.
Within a month, the administration issued an email decrying the professor's alleged "Islamophobia."
"Certain actions taken in that class were undeniably inconsiderate, disrespectful, and Islamophobic," wrote David Everett, the university's vice president for inclusive excellence.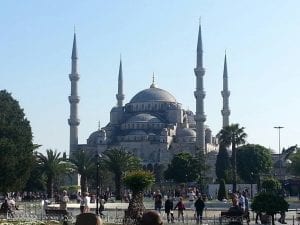 Somewhat unexpectedly, some Islamic scholars and activists defended Prater Lopez's actions, saying that a depiction of the Prophet in an academic setting should not be condemned without first assessing the context in which the image was displayed.
"An academic studying an ancient depiction of [the Prophet Mohammed] in a classroom without bigoted intent […] would not qualify as Islamophobia," Council for American-Islamic Relations Deputy Director Edward Ahmed Mitchell said in a statement.
"Although we strongly discourage showing visual depictions of the Prophet, professors who analyze ancient paintings for an academic purpose are not the same as Islamophobes who show such images to cause offense," CAIR said in a related statement.
Now, Lopez Prater says that Hamline University has irreparably harmed her reputation and caused her to suffer significant losses.
The professor's lawsuit alleges that, even as Wedatalla sought to impose her interpretation of Islamic belief onto her classmates, Hamline retaliated against Dr. Lopez Prater simply because "she is not a Muslim, because she did not conform her conduct to the specific beliefs of a Muslim sect, and because she did not conform her conduct to the religion-based preferences of Hamline that images of [the Prophet Mohammed] should not be shown to any Hamline student."
In its motion to dismiss the lawsuit, university attorneys say that the professor's lawsuit does not meet the legal threshold for a religious discrimination class, since Hamline administrators were not aware of Lopez Prater's beliefs or lack thereof.
"Terms like 'Islamophobia,' 'homophobic,' 'racist, or 'Nazi,' without more, have generally been found to be nonactionable expressions of opinion and/or rhetorical hyperbole," Hamline attorneys wrote in their motion.
Sources
After Lecturer Sues, Hamline University Walks Back Its 'Islamophobic' Comments
Hamline files motion to dismiss lawsuit from professor fired in Prophet Muhammad controversy