Relationships need work. And couples need to work hand in hand to address the issues they face and arrive at a solution that brings happiness.
---
Today, married couples don't shy away from counseling. It is much more common than you can think. The couples counseling advantages go a long way in saving a marriage. The global pandemic has exposed everyone to some kind of added stress. The extra time in your family can lead to fights between partners at times. 
And during this challenging time, it becomes essential to maintain one's mental health in order to avert emotional turbulence. One of the best ways to do so is opting in for couples counseling. To know more about it, you can check out Virtuous Circle Counselling. 
The challenge
Counseling or therapy generally is a zone of stigma for several people. Many couples feel it is not a good gesture to open up their marital or conjugal challenges in front of a third person. But at times, getting an objective view of your relationship can provide you with the required perspective and enable you to look at your partner in a new way. 
That aside, people or couples often find it difficult to trust a counselor or therapist pertaining to their marriage issues. But here, it is necessary to take a leap of faith and search for a reputed and expert couples' therapist and opt-in for a session. 
The advantages to count on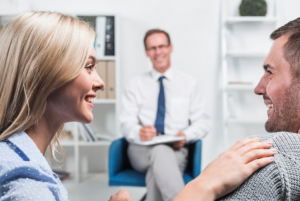 Relationships are never perfect. It's a ground where one learns more about oneself and others. The test of every relationship lies in how to endure and manage it. When it comes to the relationship between two partners, ample issues can cripple happiness. It could range from different life views to recurring conflicts. Getting separated is not the answer. You need to check whether there is a solution or not. People who opt-in for couples therapy often report the following benefits:
A better understanding of their partners
Even though most partners claim that they understand each other well, the reality can be different. Psychology says that it's impossible to understand another person correctly. And when couples keep that in mind, they realize that they might need to look at one another through a different lens to understand each other better. 
Manage trust issues better
Not every person has had a smooth childhood. Our experiences shape our psyche. Most couples have deep routed trust issues based on their challenging childhood experiences. Hence, it's essential to manage these issues better in a relationship; otherwise, it can lead to unwanted conflicts and fights. Through couples therapy or counseling, partners learn to acknowledge each other's trust issues and choose to work on them. That enables in managing the situation at hand better. 
It's a safe space for couples
Marriage or a relationship can throw certain challenges that you might not have imagined before. And sometimes, the best way to resolve it is by enabling a third person to foresee the issues and provide a solution. The couples counseling sessions are safe for partners to share their thoughts and issues. It will help them notice their patterns and work on them for a better future. 
Relationships need work. And couples need to work hand in hand to address the issues they face and arrive at a solution that brings happiness. Couples therapy doesn't promise to give couples a fairy-tale romance, but it will certainly help them to sail better with each other.