Stethoscopes Contain Harmful Bacteria Even When 'Cleaned,' Study Finds
---
In a recent study, researchers found DNA from bacteria linked to a number of infections on stethoscopes carried by Intensive Care Unit (ICU) healthcare professionals.  On a set of forty ICU stethoscopes, all had a high abundance of Staphylococcus DNA, with "definitive" S. aureus DNA present on 24 of 40 of the instruments tested, according to Ronald G. Collman, MD, of the University of Pennsylvania (UPenn) Perelman School of Medicine in Philadelphia and his colleagues.  The authors wrote, "Staphylococcus, the bacteria responsible for Staph infections, was found in abundance on all stethoscopes."  What's more, cleaning the instruments did not completely sterilize the stethoscopes, bringing them to the level of "clean," the authors wrote in Infection Control & Hospital Epidemiology, the journal of the Society for Healthcare Epidemiology of America.
The researchers swabbed stethoscopes from their hospital's medical ICU, using molecular sequencing to analyze the samples taken.  These included ten single-use disposable stethoscopes right out of the box (i.e., the control set), twenty single-use disposable stethoscopes being used in inpatient rooms (i.e., patient room stethoscopes), and twenty stethoscopes carried by practitioners.  They then sampled ten additional practitioner stethoscopes cleaned with the "standardized cleaning method," which includes a hydrogen peroxide wipe for one minute and then swabbed when dry.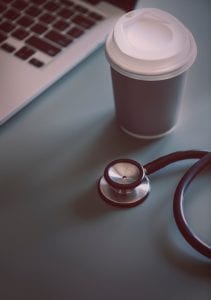 A third test took a look at twenty additional practitioner stethoscopes, which were swabbed pre-cleaning, then returned to the practitioner who was asked to clean it "using the method they usually would use to clean it between patients."  These methods also included hydrogen peroxide wipes, alcohol swabs, or bleach wipes.
The authors noted that Staphylococcus DNA was "ubiquitous" on those stethoscopes and represented about 7% to 14% "of all bacterial sequences."  They also found smaller concentrations of other harmful bacterial DNA, such as Pseudomonas and Acinetobacter.  The researchers hope their findings will encourage schools to implement strictier protocols for stethoscope safety and cleaning in order to eliminate the risk of transferring illnesses from patient to patient.
"This study underscores the importance of adhering to rigorous infection control procedures, including fully adhering to CDC-recommended decontamination procedures between patients, or using single-patient-use stethoscopes kept in each patient's room," Collman said.
The Centers for Disease Control and Prevention (CDC), in its disinfection protocol, states "medical equipment surfaces" such as stethoscopes should be disinfected with an EPA-registered low- or intermediate-level disinfectant, adding that "use of a disinfectant will provide antimicrobial activity that is likely to be achieved with minimal additional cost or work."  The agency warns, "Medical equipment surfaces (e.g., blood pressure cuffs, stethoscopes, hemodialysis machines, and X-ray machines) can become contaminated with infectious agents and contribute to the spread of health-care–associated infections.  Its recommended procedure "accomplishes two goals: it removes soil on a regular basis and maintains an environment that is consistent with good patient care."
"Useful future directions would be to use these molecular approaches to identify improved cleaning methods, enhance species-level identification of pathogens, quantify live versus dead bacteria, and define fungal and viral contaminants…[and] shotgun metagenomic sequencing would be useful to analyze drug-resistance genes that might be carried between patients on practitioner stethoscopes," the authors of the new study concluded.
Sources:
ICU Stethoscopes Teeming With Bacteria
Penn study: Stethoscopes are loaded with bacteria