Commuters upset that stretch of I-69 has numerous potholes and is dangerous to drive.
---
Forty motorists whose vehicles have been damaged on a 15-mile, pothole-ridden section of Interstate 69 have brought tort claims against the state of Indiana, citing the potholes along this stretch are making an already dangerous route due to construction zones even more hazardous.  From October 1 to February 28, there were 186 crashes resulting in 25 injuries and one death on I-69 between mile markers 219 (Pendleton) and 234 (Daleville), according to records from the Indiana Criminal Justice Institute.
Chris Polo, who regularly commutes through the route, says he feels like a race car driver, "I put down my coffee and start swerving," he said. "I know where the potholes are.  It's crazy."
Polo was heading home on a late Friday afternoon on December 14 after it was already dark outside and couldn't see clearly.  He vehicle started shaking after he hit one, denting both wheels on the right side. He has submitted a tort claim for $378.26.  Then, two weeks ago, a metal object which may have been a hubcap flew up and struck Polo's car between the headlights.  "If had been a foot higher, it would have gone through the windshield at my face.  My car keeps getting beat up from this road," Polo said.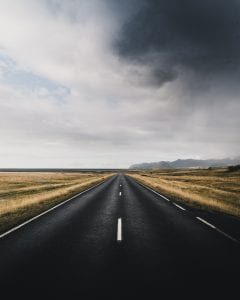 Sandra Neel, a CPA compares the stretch to an obstacle course, "where you have to dodge not only potholes but hubcaps, tire tread and other debris," she said.  Due to rough pavement, a board bounced off the back of a truck her husband was driving right behind and almost hit his vehicle.
The state has ninety days to approve a plaintiffs' claim, and if it's not approved within that timeframe, it's automatically considered to be denied.  It's been more than the allotted time for Fort Wayne Community Schools transportation manager Lester Bush who never heard back.  On November 22, he was southbound in his 2017 Lincoln Continental, in a construction zone.  On his right was a semi-trailer-truck and to his left was a concrete barrier.  A pothole suddenly appeared, and he couldn't avoid it.  His left front tire went flat, so he had to pull over.
Bush felt he was too close to traffic to safely change the tire, so he waited an hour for roadside assistance.  The next day, a Ford dealer said the tire couldn't be repaired because the sidewall was pinched, and his all-wheel-drive car would need four new tires, which cost him $1,005.58.  Bush received a letter from the state saying it was not responsible, and that two contractors hired by the Indiana Department of Transportation (INDOT) to fill the potholes, were the responsible parties.
"I tried to reach the contractor, but the state gave me no phone number, and the address they gave me I could not find in the phone book," he said. "I called an investigator for the state, who gave me a number to call.  I called the number and it was no longer in service."
Nathan Garrett, parts manager at the Ed Martin auto dealership in Anderson, lost the use of his car for nearly a week after hitting a "very large pothole."  The day before, Michael Short, a service technician at Ed Martin, found himself changing a tire on the side of I-69 after hitting a pothole and said, "and I will say it was very dangerous doing that."
Last year, on his way home from having spent more than $900 on new rims and tires, Short struck an I-69 pothole along the stretch and bent one of the brand-new rims.  He filed a tort claim, but it was denied.   "They said that they did not know about the pothole on I-69, which I find very hard to believe," Short said.
A rehabilitation and widening of this infamous stretch of the interstate is currently in progress.
Sources:
I-69 pothole victims speak out, seek damages from state
Motorists File Suits over Damage from Potholes on I-69 in Indiana