The crocheted bikini is behind a slew of litigation. Is the debate over the origin of the popular fashion fad finally over?
---
Ipek Irgit began selling a crocheted, bikini style swimsuit she called a 'Kiini' in 2013, one year after she had visited the beaches of Brazil and purchased one for herself.  Irgit had the bikinis made in China for $29 each and charged $285 retail.  She said the style was "a reflection of my personality" and the branding incorporated both the word 'bikini' and her initials — I.I.I. — ultimately resulting in 'Kiini.'  At first, the creator of this new fab saw lack-luster results.  Then, in January 2014, the model Dree Hemingway posed in one on a surfboard, posting the image to Instagram.  The photo was captioned: "Thank you for my Kiini!!"
"I was, like, bombarded," Irgit said. "That was it."
The bikini was soon afterwards featured in Vogue and Women's Health magazine. And, in June 2014, People magazine called it "the hottest bikini this summer."  She reportedly had $9 million in sales by 2015.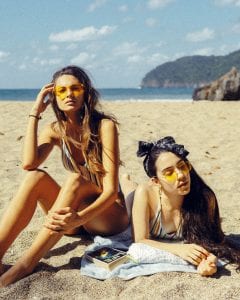 Irgit acted on her attorney's advice and sought copyright protection as the creator of the the Kiini after she began realizing how successful is was.  She filed her first lawsuit in October 2015 against Victoria's Secret, accusing the company of copyright infringement.  That lawsuit settled in March 2017.
Then, in April 2018, Irgit filed a new lawsuit against Neiman Marcus and two additional swimwear companies alleging unfair competition and trade dress violations.  Kiini claimed any consumer who saw that style of bikini would assume it was a Kiini.  The lawsuit was eventually amended to add new swimwear companies, including PilyQ, a company owned by a woman who is married to attorney Jason Forge.
Meanwhile, street artist, Maria Solange Ferrarini, began claiming she was the real creator the crocheted fashion fad.  PilyQ sells its Platinum brand crocheted swimwear to Neiman Marcus.  The popular retailer received a cease and desist order form Kiini in April 2018, and Forge contacted attorneys for Victoria's Secret.  He then learned of rumors that there was a bikini maker from Brazil whose work was not credited.  Forge found Ferrarini online and negotiated with her.  Ferrarini was paid about $5,100 in 2018 and will earn $7,700 in 2019 in the agreed upon nonexclusive contract between the two.
To complicate matters further, Sally Wu, a business colleague of Irgit, who for years helped the company source its bikinis from China, had a falling out with her former associate, and over dinner with a friend, Wu said Irgit's bikini was a replica of one she brought home from Brazil. Thus, she said that Irgit was not the original artist.  This friend relayed the information to higher ups at Neiman Marcus, and Forge caught wind of the conversations.
Forge then contacted Wu himself, and after a meeting between the two, she gave him her hard drives which contained a photo of the prototype crocheted bathing suit signed by Maria Solange Ferrarini.
"She is not a designer," Wu said. "But she is a good marketer.  She knows how to create a brand, and she really knows how to market a product."
This was all the proof Forge needed to determine that the Kiini was a replica rather than the original.  On June 13, 2018, Forge filed an unfair trade practices lawsuit against Irgit and Kiini.  A month later, Irgit's lawyers withdrew from Irgit's case against Neiman Marcus and Irgit dropped the lawsuit.  And, in late 2018, Irgit expressed her feelings toward PilyQ and Forge, calling him a "bully" and "scumbag."  The final chapter of this saga has yet to be seen.
Sources:
The Itsy-Bitsy, Teenie-Weenie, Very Litigious Bikini
Kiini's Crochet Bikini and Cult Gaia's Ark Bag Give Rise to Lawsuits, Cultural Questions