A man attempts to steal a flute in plain sight.
---
A man decided he really needed to get a flute but didn't have the means to pay for it.  So, he concocted a way to retrieve the musical instrument, walked into Voigt Music Center, and tried to distract its staff while shoving the flute down his pants.  And, all of this occurred in plain view of the store's surveillance camera.
"That was shocking, that part.  I couldn't help but laugh about it," the Wisconsin store owner Tony Farrell said. "He took it right off the wall and walked right over here with it in his hand.  He went right behind where a camera is and put it down the back of his pants.  It was just so ridiculous.  I just would not expect someone to be so stupid that they would hide something right in front of a security camera."
Farrell's mother, Londa Farrell, who was working behind the counter, said the man's actions were more than obvious as he tried to distract her and retrieve the flute.  "It was so blatant," she said. "His jacket was up.  He didn't even bother to pull it down.  You could see the price tag (on the flute) and everything.  I couldn't help but shake my head."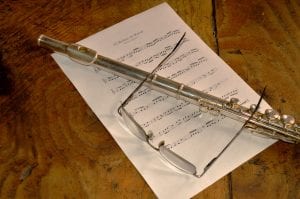 One employee confronted the man before he could walk out the door and asked what he had in his pants.  More than half of the instrument was visible.  The would-be thief stated the obvious and even added that he always keeps his flutes in his pants.
"So, she pulled it out of his pants, and she said, 'You keep our flute with our tag on it in the back of your pants?'" another employed recalled.  After this, the man didn't know how to respond and simply left, driving away with a woman in a truck, according to witnesses.
"I wasn't sure what to do with the flute," Tony said. "I didn't feel good about anyone ever having to touch it again.  I couldn't, in good conscience, let anyone ever put their lips to that instrument at any time, you know?"
So, he creatively decided to turn the instrument into a lamp, clarifying that it's not for sale and saying, "It's kind of a reminder to people that maybe you should think twice before you steal from a small business.  We've had lots of dumb criminals before that have gotten caught doing stupid things before, but this is the best."
Voigt Music Center posted the video footage on its Facebook page along with the following message: "This gentleman just paid us a visit and decided to try to walk out with a flute in his pants.  Luckily, we saw it in time before he drove away with a woman in a late model, brown, Blazer-like truck.  Hint to criminals.  Don't try to steal things right in front of a camera.  You do it at my place, and your face will get posted right here for everyone to see.  I hope someday to put a name with the face.  Oh, and you aren't welcome back, ever."
Sources:
Man tries to steal flute from Wisconsin music store by sticking it down his pants
Man sticks flute down his pants, tries to steal it from Janesville music store