Three of the 'Englewood Four' men who were exonerated after DNA evidence linked a convicted murderer to the crime they were imprisoned for have entered into a settlement agreement with Cook County, Illinois.
---
A $24 million settlement has been entered for three of four men who spent almost sixteen years in prison for the 1994 rape and murder of an Englewood woman before DNA linked the crime to a convicted killer.  Michael Saunders, Vincent Thames and Harold Richardson were convicted along with Terrill Swift for the rape and murder of Nina Glover when they were still teenager.  The case was a high profile one and they were quickly dubbed "The Englewood Four" before later being cleared of the crime and granted certificates of innocence.
The city of Chicago previously approved a $31 million settlement.  The $24 million between the three men and Cook County follows a $5.6 million payout the board approved in July 2017 to Swift.
"The citizens of Chicago are still paying for police misconduct and will continue to do so until people rise up and say they're not going to stand up for the misconduct any longer," said Thames' attorney Stuart Chanen.  He added, it was a "tragic case in which the Chicago Police Department interviewed the real murderer at the crime scene on the day that the woman's body was uncovered."
Attorney Jon Loevy, who represents Richardson, said, "Every wrongful conviction is a tragedy, and no one would trade all those years in prison for money, but this at least represents some justice for what happened."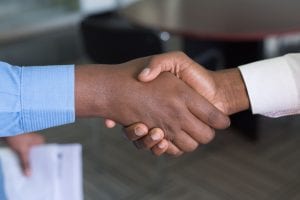 Peter Neufeld, who represents Saunders and co-founded the Innocence Project, said, "I think these people are very sincere that they wish to change the way that prosecutors function in a very sort of fundamental way.  They're very serious about trying to transform the office so the kind of gross misconduct that (prosecutors) committed in 1995 just won't happen again.  That's something to be very optimistic about."
The four men spent 70 years behind bars.  They were convicted due to their confessions, which were later discovered to be coerced.  Forensic testing in 2011 matched DNA from Glover's body to Johnny Douglas, a convicted murderer and sex offender who was ultimately shot to death in 2008.
"What is happening in this city is that the civil rights lawyers have carved out a cottage industry in the name of wrongful convictions," Fraternal Order of Police Vice President Martin Preib said in 2017. "They look to this chamber as their blank check.  Their playbook is simple: They claim police misconduct, get the prosecutors to exonerate, draft a willing media and then manipulate the citizens of Chicago out of their tax money."
Federal authorities opened a civil rights investigation into allegations of misconduct by police and prosecutors against the four men, but no charges resulted.  The former Assistant State's Attorney Terence Johnson, one of two prosecutors in the felony review unit who worked with detectives to approve charges against the four men, was interviewed in March 2012 and made statements under oath that were inconsistent with his FBI interview.
In his interview, Johnson said the investigation of the Glover homicide made him uncomfortable, indicating detectives "coached and fed" witnesses and pressured the defendants into confessing.  Johnson legal career ended in 2000 when he was convicted of felony sexual abuse of a minor.
Sources:
$24 million settlement in 'Englewood Four' case on Cook County agenda$24 million settlement in 'Englewood Four' case on Cook County agenda
County to vote on $24 million settlement in 'Englewood Four' case