If you're a parent of a small child who enjoys playing with musical toys, this recall is for you. A recall was recently issued for INNOCHEER children's toy instrument sets created by Creative Sto over concerns that the company violated the federal lead paint ban while manufacturing the toys.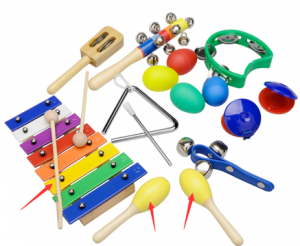 According to the recall notice, the products were only sold at Amazon.com. The recalled instrument sets include 18 different toy instruments, including maracas, xylophones, sleigh bells, shaker eggs, finger castanets, bell sticks, and more. All the instruments, including the carrying case that held them, were painted with paint that contains "levels of lead that exceed the federal lead paint ban." For those who don't know, lead is a toxic material that may cause adverse health issues, especially in children.
The toy sets were sold exclusively on Amazon.com between June 2018 and August 2018. They were priced between $21 and $33. If you have one of the recalled toy instrument sets in your home, you should immediately take it away from your children and contact Creative Sto for a refund. If you have additional questions about the recall, contact Creative Sto at 866-322-3361 from 8 a.m. to 6 p.m. ET Monday through Friday.
Sources:
Children's Toy Instrument Sets Recalled Due to Violation of the Federal Lead Paint Ban; Made by Creative Sto and Sold Exclusively at Amazon.com
Children's Toy Instrument Sets Recalled Due to Violation of the Federal Lead Paint Ban; Made by Creative Sto and Sold Exclusively at Amazon.com (Recall Alert)
Join the Discussion