Drowning cases in Georgi and Florida are being investigated.
---
Elijah Foster, 18, has been charged for this alleged involvement in the "forcible drowning" of 17-year-old Georgia resident Mercedes Chico-Sims.  Chico-Sims and Foster were acquaintances, according to law enforcement.  Mercedes was found dead in a pool behind an apartment complex on May 29.  A maintenance worker at the facility made the discovery and police at the time reported that her body "showed signs of 'obvious' trauma."  A medical examiner then ruled her death a homicide.
Foster has not been accused of killing Mercedes at this time, prosecutors have said.  A statement from the Fulton County District Attorney's office reads, "The Fulton County District Attorney's Office and the Roswell Police Department are yet to receive the complete autopsy report from the Fulton County Medical Examiner's Office.  Once we receive that report, we will make an official charging decision within 30 days."
Tiffany Sims, Mercedes' mother, said, "I just miss her so much.  She was my best friend.  Someone should never have their life shortened like that and face evil like that…We want justice.  We want answers.  We want the truth.  I feel like whatever the truth is that justice will be served accordingly."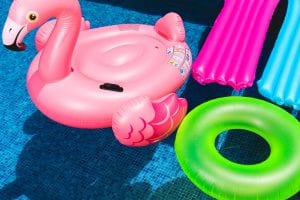 Sims evidently confronted Foster on the day authorities discovered her daughter's body, believing he had something to do with it.  "At the time when he said he didn't know where she was or hadn't seen her," Sims said. "He showed no remorse.  No remorse whatsoever."  She added, "She was such an open spirit.  She loved everyone.  She trusted everyone, always smiled even when times are hard."
Roger Hazelwood, her father, said, "She was more than just a daughter.  She was a friend to a lot of people.  She will be missed."
Meanwhile, in Florida, a mother was recently charged in the pool drowning deaths of her sons, 6-year-old Ja-Kye Joseph and 5-year-old Branario Minto.  The two were found at the bottom of an inground pool at Silver Palms Condominium complex.  Although friends and relatives who spotted the boys attempted to revive them by administering CPR, the two were unresponsive when first responders arrived and could not be saved.
The brothers had reportedly been submerged underwater for almost two hours, according to detectives.  Their mother, Wildline Liline Joseph, 23, said she believes they snuck out of the unit while she was asleep, jumped the fence, and got into the pool.  She was eventually awakened by the commotion of her neighbors discovering the boys floating in the water.
Surveillance video shows the victims "unsupervised and running to the pool area at approximately 7:16 p.m.," the sheriff's office confirmed.  The victims' 4-month-old and 1-year-old siblings were removed from the home as Child Protective Services performed an investigation.
This month, police arrested both the mother and John Louis Lynn Jr., 24, of Tamarac, charging them with two counts of aggravated manslaughter of a child.  The police report indicated, "Joseph and Lynn failed to provide proper care and supervision for the brothers, which made them responsible for their deaths."  The pair is being held on two bonds of $250,000 each.
Sources:
Teen Was Killed by 'Forcible Drowning' as Parents Seek Answers: 'We Want Justice'
After Her 2 Young Sons Drowned in a Condo Complex Pool, Fla. Mom Is Charged With Manslaughter