Last Thursday, two teenage girls attending a Florida middle school were arrested over allegations they were plotting to murder a handful of their fellow students.
---
Last week, two 14-year-old girls in Florida were arrested over allegations that they conspired to murder nine of their fellow students. Their plot was discovered when a teacher found a folder of theirs with detailed plans on how they planned to carry out the murders.
According to affidavits, an Avon Park Middle School teacher noticed the two girls "acting hysterical as they searched for a folder." One of the girls even allegedly whispered "they would be arrested if the folder was found by someone else." According to the teacher, the other girl then responded, "I'm just going to tell them it's a prank if they call me or if they find it."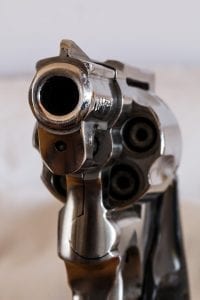 The teacher eventually found the folder, which was labeled with the phrases, 'private info,' 'do not open,' and 'project 11/9.' According to the Highland County Sheriff's Office, the folder contained eight sheets of paper that allegedly detailed out "a scheme to murder the other students whose full names or initials were listed, and the word 'guns' was also printed there."
One of the most alarming things in the folder was how the two students planned to kill and dispose of their classmate's bodies. An incident report stated that papers in the folder "described how the juvenile suspects would obtain firearms to kill the victims and dispose of their remains, 'specifically burning and burying their bodies.'" As if that's not bad enough, there were also "hand-written notes describing the clothing the girls would wear during the killing spree, such as gloves, and how they would look. 'NO NAILS' and 'No Hair Showing from the moment we put on our clothes,'" according to reports.
Startled by the discovery and contents of the folder, the teacher contacted the school resource officer and a variety of other school officials. In the end, the police were also contacted. When commenting on the incident, one parent said,
"It's scary not knowing if your kid was on that list or not. [One of the suspects] was real friendly and everything. They said that it didn't seem like it would be her, either one of them, they were both real friends and popular in school."
Andrew Lethbridge, deputy superintendent for Highlands County schools, also chimed in on the matter with the following statement:
"We would like to take the opportunity to remind students (and everyone) that we are all held accountable for the information that we communicate. The [School Board of Highlands County] takes threats very seriously and we work closely with the HCSO to investigate them. We have stressed the concept that if staff or students hear or see something that concerns them, to please share that information with an adult that can do something about it. In this situation, we witnessed this concept in action. This enables us to be proactive and respond to situations prior to an incident taking place. We want to thank our students, staff, and our local law enforcement that all play key roles in keeping our schools safe."
Sources:
Two 14-Year-Old Girls Arrested For Alleged Conspiracy To Murder Nine Other Students
Florida middle school girls arrested in alleged plot to kill 9