The gun was purchased by Eric Lamar Keys in Indiana 48 days before it was used to shoot and kill the little girl.
---
INDIANAPOLIS – Eric Lamar Keys, Jr., 25, of Indianapolis, Indiana, has been sentenced for making a false statement during the purchase of a firearm. He is the latest of several defendants to be federally prosecuted for gun trafficking offenses as the U.S. Attorney's Office partners with the Bureau of Alcohol, Tobacco, Firearms and Explosives, the Indianapolis Metropolitan Police Department, and other federal, state, and local law enforcement partners, to target illegal sources of guns used in crime.
According to court documents, on April 18, 2021, Chicago Police Department Officers were dispatched to a report of shots fired in the parking lot of a McDonald's restaurant. When they arrived, they found one man shot in the stomach and a 6-year-old girl who had been shot and killed. The suspect in the shooting was ultimately arrested by law enforcement officers and found to be in possession of multiple guns. A ballistics analysis later confirmed that one of the guns, a Glock .40 caliber pistol, was used to murder the 6-year-old girl. That gun was purchased by Eric Lamar Keys in Indiana 48 days before it was used to shoot and kill the little girl.
Investigation by the ATF found that on February 21, 2021, Keys purchased a Taurus 9mm pistol from a federally licensed firearms dealer in Indianapolis, Indiana. Keys intentionally made a false statement by declaring on a required federal firearms purchase form that he was the actual buyer of the firearm, when in fact, he intended to purchase it for an individual prohibited by law from possessing a firearm in return for $750.
This form of gun trafficking is frequently referred to as "straw purchasing." Straw purchasing occurs when a person who is allowed to legally purchase a gun from a federally licensed dealer falsely states that they are purchasing a firearm for themselves, when they know that the gun is actually intended for someone else—frequently someone who is legally prohibited from making the purchase themselves.
This sentencing comes on the tail-end of a series of similar straw purchasing cases prosecuted by the U.S. Attorney's Office for the Southern District of Indiana within the last year. (Click here to see the list).
The Bureau of Alcohol, Tobacco, Firearms and Explosives investigated these cases, with valuable assistance provided by the Indianapolis Metropolitan Police Department, The Cook County Sheriff's Department, and the Chicago Police Department.
"The tragic loss of a little girl's life is an unfortunate example of how those who straw purchase firearms can be directly responsible for gun violence plaguing our communities," said U.S. Attorney for the Southern District of Indiana, Zachary A. Myers. "Gun traffickers help arm criminals who should never have had access to deadly weapons in the first place. Our office is committed to working closely with the ATF and local law enforcement agencies to address the sources of crime gun to reduce gun violence—and to hold gun traffickers accountable in federal court."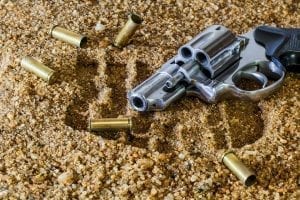 "Purchasing firearms for prohibited people is a major source of crime guns around the country and here in Indiana," stated Daryl S. McCormick, Special Agent in Charge of ATF's Columbus Field Division. "In all of these cases investigated by the ATF Chicago Trafficking Strike Force, firearms were purchased by straw buyers and ended up in the wrong hands. The hard work of Strike Force with support of the Columbus Field Division and our law enforcement partners represents ATF's commitment to stop the flow of firearms from legal purchases to illegal commerce."
U.S. District Court Judge Jane Magnus-Stinson imposed the sentence on Keys. Judge Stinson also ordered that Keys be supervised by the U.S. Probation Office for 2 years following his release from federal prison and pay an $800 fine.
U.S. Attorney Myers thanked Assistant United States Attorneys Lawrence D. Hilton, Kelsey L. Massa, Jayson W. McGrath, Patrick J. Gibson, Peter A. Blackett, and Abhi Kambli, who prosecuted these cases.
The U.S. Attorney's Office for the Southern District of Indiana is pursuing these prosecutions as a part of the U.S. Department of Justice's Chicago Gun Trafficking Strike Force. On July 22, 2021, the Department of Justice launched five cross-jurisdictional strike forces to help reduce gun violence by disrupting illegal firearms trafficking in key regions across the country. These gun trafficking strike forces are designed to ensure coordination across jurisdictions and help stem the supply of illegally trafficked firearms from source cities, through other communities, and into five key market regions: New York, Chicago, Los Angeles, the San Francisco Bay Area/Sacramento Region and Washington, D.C.