Whether it's menstrual apps, transgender rights, abortion, health care, or child marriage, it always seems like there's politicians in your pants.
---
You know how it is when you've tried to access medical care, make sure your kid isn't being harassed at school, get a prescription filled, or even just keep track of your "monthly visitor," and you find it unsafe, difficult, or impossible to do because the politicians are in your pants? If not, consider yourself lucky, and then gird those tender loins because they're probably coming for you, too, not too far down the road.
Here's where and how they're sniffing around our collective parts lately…
Last week, Virginia Republicans blocked a bipartisan bill that would have protected menstrual tracker app data from being made available to police and the courts via subpoena. After Roe v. Wade was overturned last year, rights advocates worried that people who track their cycles using smartphone apps like MyFLO, Eve, or Ovia could be surveilled by law enforcement and prosecuted if irregularities indicated they might have illegally terminated a pregnancy.
Maggie Cleary, Virginia's deputy secretary of public safety and homeland security, explained that while the Administration "understands the importance of individuals' privacy," they oppose the bill because it would be the first bill that she knew of (anywhere!) that would "set a limit on what search warrants can do" (because if there's anything that says "small government" and "freedom," it's making sure that Big Brother can check to see if you're bleeding regularly.) It's worth remembering, even if Cleary doesn't, that HIPAA (The Health Insurance Portability and Accountability Act of 1996) sets some limits on health information that can be disclosed by covered providers under subpoena (for example, certain privacy and notification qualifications must be met), but it doesn't protect health data collected by typical menstrual tracker apps. Virginia politicians are in your pants, checkin' your flow.
Over in South Dakota, Republican Governor Kristi Noem signed a bill into law a week ago which not only prevents doctors from prescribing puberty blockers or hormone therapy after July 1st for minors experiencing gender dysphoria, but also requires doctors currently treating trans youth to gradually reduce treatment and de-transition the minors in their care by the end of the year. Noem isn't alone, though. Republicans have introduced legislation in nearly half the fifty states that would ban trans youth from accessing treatment, and governors in six states have signed trans-restrictive bills into law (some of which are pending judicial review).
Why do these politicians care so much about what your kid's bits look like?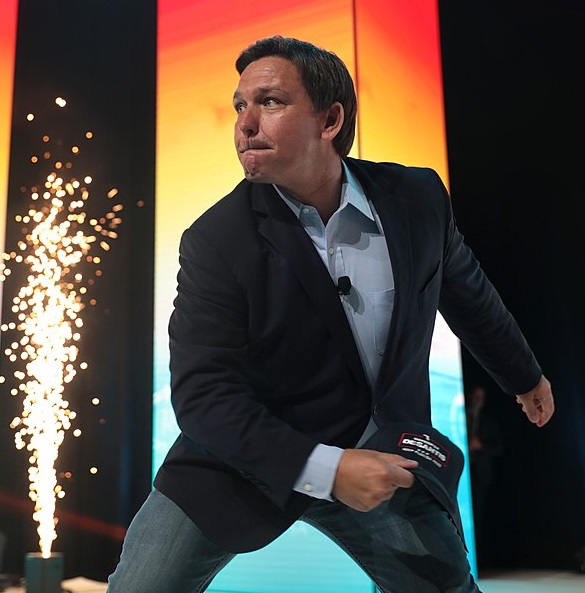 It's not just T in LGBT that's getting Republican panties in a bunch, either. Besides redefining life-saving medical care as child abuse, they've been busy poking (metaphorically, probably) into gay pants, too. The number of Republican-backed bills aimed at the larger LGBTQ community has doubled this year over last, a well-oiled weapon for a culture war meant to divide Americans and attract votes when their economic plans are less than attractive.
For example, take Florida (please!). Yet another Federal judge has dismissed a challenge to the dangly state's infamous "Don't Say Gay" law, which gags teachers on topics like gender identity or sexual orientation until kids are out of third grade. (Mostly, it means that books like Heather Has Two Mommies are right out, and Heather's going to get teased like it was 1980 again.) U.S. District Judge Allen Winsor, a Trump-appointed Republican, ruled that families like Heather's have no standing and are not harmed by enforcement of the law.
For her part, former South Carolina governor and current Republican presidential wannabe Nikki Haley is trying to outdo her potential rival, Florida Governor Ron "Don't Say Gay" DeSantis, by saying he didn't go far enough with his signature law. Fearing that it means that eight-year-olds are going to face sex ed classes, Haley said in an interview with FOX that "we should not be talking to kids in elementary school about gender, period." I guess l'il old Mrs. Henderson is going to transition over to being Mx. Henderson when they write their name on the board on the first day of class.
DeSantis, of course, followed up on "Don't Say Gay" by demanding all 12 Florida universities hand over information about any students who sought gender-affirming care from campus health facilities (six have complied) and threatening to revoke the medical license from doctors who perform sex reassignment surgery on minors, an operation that is rarely undertaken before adulthood and which is often against policy at medical facilities anyway. One wonders if this is where Texas also intends to go after requesting gender change information from the state DMV last year.
Florida politicians are in your pants, and DeSantis isn't the only one.
Late last week, Senator Marco Rubio (R-FL) and Rep. Jim Banks (R-IL) introduced parallel legislation to prevent transgender people from serving in the U.S. military. The military is already having historic levels of trouble attracting enough recruits (and young people in particular) that are both interested and able to serve; it seems like limiting recruitment further, especially considering the Right's obsession with military readiness, is shooting ourselves in the foot. Rubio has a well-known bias against "wokeness" in the military, but in today's world, strength is not built by being hypermasculine, but through diversity.
Meanwhile, in Wyoming, Republicans have been fighting FOR the opportunity to get into teenage pants. While introducing anti-trans legislation in order to stop "child abuse," they are campaigning against state bill H.B. 7, legislation which would prevent children under the age of 16 from getting married, and would require parental consent for 16 and 17 year olds who want to get hitched. Currently, there is no minimum marriage age in Wyoming, although under-16s do need a judge's blessing. The Republican argument in opposition to H.B. 7 is that since some girls under the age of 16 can get pregnant, marriage has to be a viable option available to them in order to turn a pregnancy into a family. Frankly, it just sounds like a way to marry an underage rape victim off to their rapist.
There are two clear patterns here, and I hope both have become obvious. First, the politicians here all seem to be increasingly interested in what is going on between American legs. Second, they all seem to have an R after their name. To avoid undue divisiveness, the headline became "When Politicians Are in Your Pants," but is there really any question about which ones are all up in your freedom of the crotch?
Related: Gov't small enough to fit in your [NSFW]
Sources: