Alaskan woman who set her boyfriend on fire to receive sentence.
---
Alaskan resident Michael Gonzalez was set on fire by his girlfriend, Gina Virgilio, while he slept in 2012.  Virgilio has since pleaded guilty to first-degree murder, and prosecutors are asking for 30 to 70 years behind bars for the crime.
"It was announced prior to jury selection that Virgilio would accept an agreement with the State where she would plead guilty to murder in the first degree with sentencing to be decided by the judge," state officials indicated in a media release.
Virgilio never offered a motive in court.  However, Anchorage Police Detective Walter Gilmour presented a timeline of events.  On June 7, 2012, the couple celebrated Gonzalez's 24th birthday.  At some point that night, he either passed out or fell asleep on the couch.  His blood-alcohol content was .149, but he tested negative for drugs.  Virgilio tested negative for drugs or alcohol.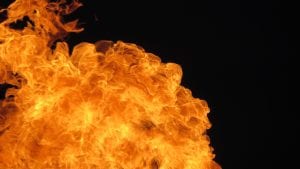 At some point early the next morning, Virgilio retrieved a container for gasoline, walked a quarter mile to a gas station.  She only had 53 cents on her, so a clerk gave her $5 for gas.  Then, she returned to the apartment, and stood looming over Gonzalez for a while before pouring the fuel on the couch and floor around him.  She lit some mail on fire, threw it near the couch from the front doorway, and ran.
Gonzalez woke up and said, "hot, hot," the defendant later admitted to her mother.  She had heard this right before fleeing.  His body was ultimately found in the kitchen with the cause of death listed as "smoke inhalation and burns."
"I cannot begin to explain how that ruined my life for the last 2,675 days," his sister, Trisha Gonzalez Flecha, said in her victim impact statement read during proceedings.  She added, "I replayed that in my mind over and over, and my baby brother telling you it's hot, and you turned around and left him there.  You didn't give him a chance."
Austine Gonzalez, Michael's youngest brother, said, "The pain that Gina has caused is irreparable and unforgivable.  The only piece of closure that I can hope for in this seven-year ordeal is the possibility of living my life without ever needing to worry about seeing a murderer on the same streets I raise my sons."
Angel Gonzalez Flecha, Michael's oldest brother who had served in the Navy, said of footage played for the court, "Your honor, one of my requirements is to process those items as quickly as possible and it took every ounce of energy, it took days for me to get through that video and through those horrid screams.  I hope she knows that I will never forget, and there will be no rest.  I will do everything I can to know and let others know the monster she is."
Gonzalez's mother, Rosa Flecha, read her statement, saying, "There is emptiness, there is intense pain that is constantly crying because there is no solace. Living has stopped because of so much suffering.  There is a moment when you don't have to cry because those teardrops just come out by themselves."
Alaska does not have the death penalty.  Virgilio will receive her sentence later this month.
Sources:
https://www.ktva.com/story/41143830/sentencing-begins-for-woman-who-killed-boyfriend-in-2012-arson-fire