Connecticut is joining in on an investigation into JUUL's marketingn efforts.
---
Connecticut's Attorney General William Tong has announced the state will be joining others in an investigation of vaping manufacturer JUUL's marketing efforts to determine whether the company "is illegally marketing its products as smoking cessation devices" and "whether it has properly limited its marketing to adults." There have been allegations that the company is soliciting to minors.  Tong's efforts are part of a national push to curb youth vaping, which includes similar investigations in states such as Massachusetts.
JUUL has insisted its products are for adults only.  Yet, those who've filed lawsuits disagree and have alleged it deceptively markets itself as safe for younger generations.  The suits claim JUUL's decision to market through social media was one aimed at soliciting millennials – even those under the legal smoking age.
"They are making the claim that they are helping people quit smoking and so we are testing that claim," Tong said. "If that's your main explanation or excuse, we'd like to know whether it is true or not."
In 2018, JUUL entered the international market, launching in Israel where there is no age restriction on advertising or selling e-cigarettes to minors.  The company also launched in the United Kingdom in July after developing JUUL pods that complied with the European Union Tobacco Products Directive.  These moves seem to point to an effort to circumvent U.S. laws.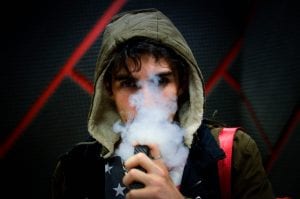 According to data from the Tobacco Free Florida, it's estimated that nearly 25% of high school students in Florida were vaping in 2018.  The study also revealed that the "prevalence of vape pen and JUUL usage increased 4.1 percentage points for past-30-day use, making vape pens and JUULs the only substance use category where students reported a substantial increase over the last two years."
Tong said, "The state's investigation is part of a national effort to curb youth vaping.  That includes a lawsuit over JUUL's marketing practices in North Carolina and similar investigations in other states." He added, "Connecticut is targeting JUUL because it has the largest share of the vaping market" and noted that its products have not been approved for use in smoking cessation by the U.S. Food and Drug Administration (FDA), so it should not be marketed them for this use.
The company's chief executive officer Kevin Burns, stated previously, "We're committed to prevent underage use, and we want to engage with FDA, lawmakers, public health advocates and others to keep JUUL out of the hands of young people."
In late 2018, the FDA reported after investigating JUUL's internal operations, "The new and highly disturbing data we have on youth use demonstrates plainly that e-cigarettes are creating an epidemic of regular nicotine use among teens.  It is vital that we take action to understand and address the particular appeal of, and ease of access to, these products among kids."
At the time, FDA Commissioner Scott Gottlieb said, "We see clear signs that youth use of electronic cigarettes has reached an epidemic proportion, and we must adjust certain aspects of our comprehensive strategy to stem this clear and present danger."
Sources:
Connecticut launches investigation into vaping health claims
Lawsuits Allege JUUL is Deceptively Marketing Products to Teens
JUUL Faces Another Lawsuit for Allegedly Exploiting Adolescents to Addictive Products
FDA Inspects E-Cigarette Maker Juul, Taking Away Thousands of Documents