A lawsuit was recently filed against Falmouth Schools by a former teacher over allegations she was discriminated against for her gender and pregnancy.
---
Shana Swenson, a former Falmouth teacher, recently filed a lawsuit against the Falmouth School Department over allegations that her teaching contract wasn't renewed because she took "three breaks a day to express and save breast milk after returning from maternity leave." In other words, she claims she was discriminated against on the basis of pregnancy and gender. Swenson filed her lawsuit back on May 10 in U.S. District Court in Portland and is seeking unspecified punitive and compensatory damages.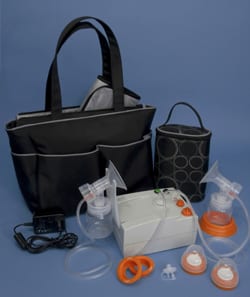 The school district has so far pushed back against the allegations. The attorney representing Falmouth Public Schools, Melissa Hewey, issued the following statement:
"Ms. Swenson's claim that the Falmouth School Department discriminated against her is false. In fact, Falmouth works hard to support employees who are parents by, among other things, providing mothers with paid time to breastfeed and express breast milk during the school day, extended parental leave when needed, and an on-site daycare for employees so that they are able to be near their children and participate in their care during the working day."
What allegedly happened, though? Well, according to the suit, Swenson began working for the school district back during the 2015 and 2016 school year as a Response to Intervention teacher for grades 3 through 5. In her role, she was responsible for helping students "struggling with a skill or lesson to help them succeed in the classroom," including students with learning disabilities or special needs.
After her first year and a positive performance review, Swenson's contract was renewed for the 2016-17 school year. In January 2017, she went on maternity leave and returned to work in August 2017. At that time she notified her "supervisor and other members of her team that she would need to take three 20 minute breaks a day to either feed her child or express breast milk." Fortunately for Swenson, her son was enrolled in the school's on-site daycare facility.
However, her supervisor wasn't as receptive to Swenson's request as she had hoped, allegedly. Instead of accommodating her request, Swenson was "asked to reduce the number of times she fed her child or expressed milk and to do that during lunch and her planning time instead of when her body required her to do so." In order to prevent clogged milk ducts or mastitis, though, she went ahead and took three breaks throughout the day.
Not everyone liked the fact that she was taking three breaks, though. In fact, "members of her team allegedly criticized Swenson's decision to express breast milk during working hours," according to the suit. That allegedly prompted Swenson to touch base with her supervisor and express her concerns that she may be experiencing discrimination and retaliation.
Shortly after that meeting with her supervisor, Swenson was given her "first negative evaluation in three years," and was told in May 2018 that her contract was not being renewed for the following year.
When commenting on the matter, Katie A. Beatty, the attorney representing Swenson, said:
"Mrs. Swenson, after serving Falmouth Elementary School for three years, was surprised and hurt by the treatment she was subjected to during her employment. We look forward to the discovery process including depositions and document exchanges to vindicate our client's rights."
Sources:
Ex-Falmouth teacher claims she was fired for taking breaks to pump breast milk
Woman files lawsuit against school saying it fired her for taking breaks to pump breast milk, breastfeed child