Former softball player, Mari K. Cook, recently sued the University of South Carolina Beaufort over allegations that it failed to prevent the head softball coach from bullying and harassing her.
---
The University of South Carolina Beaufort is at the center of a new lawsuit filed by Mari K. Cook, a former softball player for the school. According to Cook's allegations, her coach "harassed and bullied her to the point she quit the team." To make matters worse, she also claims the university failed to investigate the matter. Prior to the bullying incident, Cook was an "athlete on scholarship and a Beaufort County resident." She filed her suit earlier this month in the Beaufort County Court of Common Pleas.
When did the bullying begin, though? What led up to the unfortunate incident? According to the lawsuit, it all began when Cook was "injured during an away game in the 2016-2017 softball season and was diagnosed with a concussion." According to one of Cook's attorney's Clay Hopkins, the injury left her unable to participate for a period of time. He said, "After her injury, (Cook) was ostracized from the team when she tried to come back…That's when her coach really started bullying her."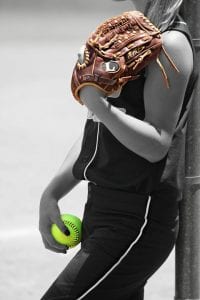 The suit alleges that Cook's head coach, Laura Heberling, "mocked her and ridiculed her, making jokes about her weight, and refused to allow her to train with certain trainers." Furthermore, when she was ready to return to the team, she wasn't allowed back on because she "failed a physical fitness test…and was not allowed to train with the university's track coach to improve her performance," Hopkins said.
When commenting on the bullying his client allegedly endured, Hopkins said:
"Heberling would often poke fun at (Cook's) weight. She'd say things like 'stop eating potato chips and get off the couch,' while laughing. We learned she had made weight-related comments to other girls on the team, too."
He added that the comments were often made in front of the entire team in a "bullying manner."
The truly upsetting thing about Cook's ordeal is that other coaches and trainers saw how Heberling was treating her, and did nothing to stop it. No one reported the bullying to authorities. Then, when Cook finally reported the alleged abuse to officials at the university, they "failed to investigate…allowing Heberling to continue to make demeaning and insulting comments."
As a result, Cook ended up quitting the team. When she alerted the school's athletic department and athletic director of her decision, that she "wanted to transfer because of the bullying," she was told she was "making a mistake." On top of that, the athletic director told her "he would not grant her release from her scholarship," the suit claims.
The suit alleges the bullying and harassment caused Cook to suffer "embarrassment, humiliation, ostracism by friends, anxiety, grief, emotional distress, physical stress, and other psychological injuries."
In response to the allegations, Candace Brasseur, a spokesperson for the university, issued the following emailed statement:
"It is our policy not to comment on pending litigation. However, we take student complaints very seriously and comply with all federal Title IX regulations."
Beaufort County is no stranger to bullying in schools. Last year, an investigation was launched to see if bullying incidents in Beaufort County Schools were being swept under the rug.
Sources:
USCB coach bullied college athlete and made fun of her weight, lawsuit says
Has bullying at Beaufort County Schools been getting 'swept under the rug'?