A general manager at Founders' Detroit taproom allegedly refused to acknowledge that an employee complaining of racial harassment was even African-American.
---
Founders Brewery has settled a discrimination lawsuit with an African-American employee who says his coworkers regularly used racial slurs at the company's Detroit taproom.
According to MLive.com, the settlement follows 'immense' backlash against Grand Rapids-based Founders. That's because the general manager of its Detroit taproom refused to acknowledge that the plaintiff in the suit, Tracy Evans, is, in fact, a black man.
The agreement was announced by Founders' co-owners Mike Stevens and Dave Engbers. Details of the settlement will remain confidential.
"We are pleased to settle this case and focus on the future," their statement says.
"Through recent discussion with Tracy, we listened, engaged in self-discovery, and reached common ground to make amends. We agreed that nobody be viewed at fault here," it added. "Most importantly, this serves as an opportunity to place our full attention on the work we now have to do, as a company of more than 600 dedicated team members, to rebuild our relationships."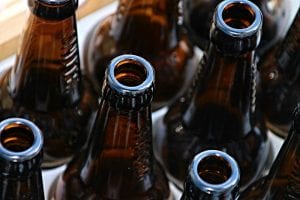 Nevertheless, MLive notes that the case's initial deposition drew swift condemnation. Founders temporarily closed its Detroit taproom and withdrew its slot from the city's annual Fall Beer Fest. Some local stores and regional chains also said they'd stop stocking Founders.
MLive recounts how Founders general manager Dominic Ryan—who claimed to have known Evans for years—was questioned in court. Asked by an attorney whether he was aware that his coworker, Evans, is black, Ryan responded by asking, "What do you mean by that?"
Ryan then said he couldn't answer the question, because he wasn't "sure of [Evans'] lineage."
In the ensuing chaos, Founders' director of diversity and inclusion, Gracia Harkema, decided to step down. In her resignation letter, Harkema said that Founders' executives were more concerned with "winning the lawsuit" than "the loss of customers, loss of reputation, and loss of employees' wellbeing."
With a settlement announced, Founders may find some relief. Evans, for his part, released a statement to accompany Stevens and Engbers'. In it, the plaintiff said he wants "the world to know the power we have when we step forward and make ourselves heard."
"I don't know what happens from here within the doors of Founders Brewing Co.," Evans said. "I do know this: we have legal resolution and we have started looking at how ALL of this is affecting human lives. I don't know what Dave and Mike have planned for the future, but I know that 'seeing color' and valuing people for who they are, and their collection of experiences is a mission."
In an article published Thursday, the Detroit Free Press argues that, regardless of the case's outcome, Founders handled it in the worst way possible by deliberately ignoring Evans' accusations of racial harassment.
"They could have taken accountability that they have a culture problem and instituted a zero-tolerance policy," crisis communications expert Peter Van Dyke told the Free Press. "Zero tolerance creates zero questions. People know exactly where they are."
Late last week, Founders announced that it was planning to shutter its Detroit taproom for good—a move which has been criticized as unusual, unnecessary and lacking transparency.
Other experts told the paper that Founders could have, at the very least, made a public statement acknowledging its employees' errors and pledging to build a more equitable workplace.
"I think that making some real tangible strategies or policy changes that people can see, feel and believe in is going to be key," Compass Strategies' Principal Jamaine Dickens told the Free Press. "You've already put yourself in a deficit situation from the trust and credibility standpoint. You have to tell them what you're going to do, do it, tell them what you did, and all of it has to be public.
"If real effort is not undertaken to change what has been described as the culture, then your best bet is to close."
Sources
Founders Brewing has made every mistake in racial discrimination lawsuit | Opinion
Founders Brewing settles racial discrimination lawsuit
Founders Settles Racial Discrimination Lawsuit Filed by Former Employee