Though it may not seem so, checks are still commonly used today. For those who usually rely upon other financial means, cashing a check can be an adventure.
---
Despite the influx of many other types of payment methods such as credit cards, e-wallets, prepaid cards, mobile payments, and e-transfers, checks are still commonly used these days. There's been a significant decline in the use of checks, for sure. But many people, especially business owners, use it to collect payments and pay vendors or suppliers.
While writing a check is quite simple, cashing it is not. When you get paid with a check, you either cash it or deposit it. Whatever the case, you need to go to your bank to have your request processed.
Cashing Checks in Banks – Advantages and Challenges
Most people cash checks in banks. You can do it in your bank or at the check writer's bank.
If you don't have a bank account, you can cash your check at any bank, provided that you comply with their requirements. There is usually a fee for this transaction. Additionally, you will have to endorse the back of the check by signing your name, fill out a deposit slip or sign the slip, and present a valid ID to the teller before you can cash your check.
As mentioned, you can go to the issuer's bank to cash your check. Many people choose this option because it almost guarantees that they will get their checks cashed. Since they have full access to the issuing account, they can verify details almost instantly and have your request approved. However, unlike if you will have it processed by your bank, you will have to pay a certain fee (which is usually higher).
Of course, when there are advantages, there are also disadvantages. Here are some scenarios where cashing a check at local banks can get a little more daunting.
You don't have a valid ID. Without proof of identity, banks are less likely to process any transaction request, specifically those that involve requesting money. When going to the bank, always prepare all the documents you need, particularly a government-issued identification.
When the check is not in your name, rather in your business name. It is important to complete your business registration within your state, especially if your business name is attached with a limited liability company (LLC). Additionally, if you choose to receive checks under your business name, you should create a separate account for it.
When you have too many checks or a big dollar amount to cash. Not all banks can handle big transactions all at once, especially credit unions and smaller branches of national bank chains. Most small banks have encashment limits. When you have a high-value check to cash, call your bank ahead of time and let them know about your request. Your bank will inform you about your options, what you need to do, and other important matters concerning your request.
When you have a stale-dated check. There are checks that can only be cashed within a specified period. If you wait too long to cash a check, the bank may refuse your request. In most instances, uncashed checks for six months become stale. Moreover, you cannot cash a post-dated check until the date specified.
Where Else Can You Cash a Check?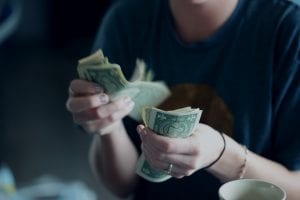 Aside from banks, there are many other places where you can cash a check.
Payday Lending Store
In addition to services like personal loans online, payday lending stores also offer cash-checking services. Their biggest advantage is convenience. You can get your check processed in no time. Different companies have different rates. Some lenders impose a fee equivalent to a certain percentage of the check value while others charge a fixed rate.
Major Retailers
Retailers like Walmart offer check-cashing services which often cost less than that of banks and other stores. In Walmart, for example, all printed checks up to $1,000 are cashed for a fee of $4 while checks between $1,000.01 and $5,000 are cashed for $8. Kmart, on the other hand, charges $1 to cash a payroll, government-issued, two-party personal, or tax check. They also offer free check-cashing in certain states, including South Carolina and Washington. If you choose to cash checks through major retailers, do your research to be able to compare rates.
Other Ways to Cash a Check and Save Money
If you regularly receive checks, you should look for the best way to cash a check while saving on fees. Below are some of your options:
Open a Prepaid Card Account. 
There are banks that offer prepaid accounts where you can deposit checks for free. It's very convenient because you don't have to fall in line or ask for an appointment with your bank as these prepaid cards can be accessed through ATMs. In exchange of these, banks charge a small monthly fee to account holders. This is a cost-effective option if you regularly cash checks.
Use a Checkless Overdraft-Free Debit Card. 
Anyone, even those who have been blacklisted by their banks, can get this type of account. It's one of the most convenient and cost-saving options because it lets you deposit a check through your smartphone. Just like a prepaid card, you also need to pay a monthly maintenance fee for an overdraft-free debit card.
Summary
Cashing a check is often a tedious process especially if you do it through your bank. Not only does it take time, but banks often have rigid guidelines and many requirements. It's much better to cash your check at the issuer's bank. They can have your request processed almost instantly (although they may charge a slightly higher fee).
You can also cash a check at a major retailer or grocery store, at a payday lender, and through the use of prepaid accounts. Before deciding which option to take, do your research and take into account your situation, such as how frequently you cash checks. For instance, while a prepaid account seems to be the cheapest method, if you cash checks very rarely, then it will turn out to be very expensive. Research about cashing outlets in your area so you can compare the rates.