Nature's Path Foods is recalling more than 450,000 boxes of gluten-free cereal after it was discovered the products may be contaminated with gluten.
---
A recall was just issued for more than 450,000 boxes of Nature's Path Foods gluten-free cereal over concerns that the cereal may contain undeclared allergens, specifically wheat and barley. This is especially problematic for anyone sensitive or allergic to gluten. Because of this, anyone with a wheat allergy or celiac disease are being advised not to consume the cereal. According to the Celiac Disease Foundation, "as many as one in 100 people have celiac disease, an autoimmune disorder in which ingesting gluten leads to damage in the small intestine."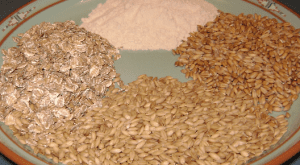 The affected cereal was shipped to retailers nationwide and in Canada. However, it's important to note that the recall only involves "a specific production run of the company's EnviroKidz line — Choco Chimps, Gorilla Munch and Jungle Munch," according to the U.S. Food and Drug Administration. The specific products included in the recall are as follows:
EnviroKidz Choco Chimp with the UPC code 0 5844987024 1 and a "best before date" of Aug. 27, 2019.
EnviroKidz Choco Chimp with the UPC code 05844987023 4 with a "best
 Gorilla Munch with the UPC code 0 58449 86002 0 with a "best before date" of Aug. 24, 2019
EnviroKidz Jungle Munch with the UPC code 0 5844987027 2 with a "best before date" of Aug. 1, 2019
The potential contamination occurred due to "air contamination resulting from a production scheduling mixup," according to Nature's Path. In a statement regarding the matter, Arjan Stephans, the executive VP of sales and marketing for Nature's Path, said:
"This failure to meet the gluten-free standard our consumers expect and trust from us is a deep concern. We have reviewed and changed our internal practices to ensure our gluten-free cereals are not impacted in the future."
If you have additional questions about obtaining a refund or about the overall recall, contact Nature's Path Consumer Services at (866) 880-7284 or email the company at ConsumerServices@naturespath.com.
Sources:
Nature's Path recalls kids' cereal due to undeclared gluten
Nature's Path Foods Recalls Gluten-Free Cereal For Traces of Undeclared Gluten