The injunction would suspend enforcement of the ordinance until the case is resolved.
---
Dallas, Texas – The Texas Civil Rights Project (TCRP) has filed a motion for preliminary injunction, which would block enforcement of Dallas' anti-panhandling ordinance until the matter is resolved in the courts. Despite phrasing the ordinance as a public safety measure, the entirety of the debate was centered around prohibiting Dallas' unhoused population from requesting aid. TCRP, alongside Waters Kraus & Paul and the SMU First Amendment Law Clinic, filed a lawsuit against the City of Dallas because the ordinance violates the First Amendment right to free speech.
The ordinance, which now makes it a crime to sit or stand on medians less than six feet and a litany of other areas surrounding the street in Dallas, threatens poor individuals basic ability to survive. Every day the ordinance remains intact, is another day that some of Dallas' most vulnerable residents face the threat of criminal enforcement, including fines of up to $500, for engaging in constitutionally protected activity.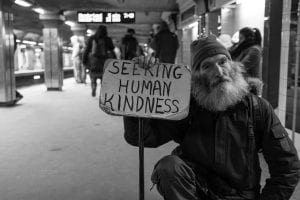 "The reality is that for many people experiencing serious poverty, there really is no other option than panhandling," said Travis Fife, Legal Fellow with the Texas Civil Rights Project's Criminal Injustice program. "Rather than help the poor, laws criminalizing homelessness tend to make homeless people poorer and push them further to the margins by deterring them from coming into public spaces at all. By trying to make the homeless invisible, telling them they cannot even sit or stand in public spaces, the law pushes them away from people who might help and breeds distrust between the homeless and governments who supposedly want to provide long-term assistance."
You can view the motion for preliminary injunction here, along with the original lawsuit here.
About Texas Civil Rights Project
The Texas Civil Rights Project is boldly serving the movement for equality and justice in and out of the courts. We use our tools of litigation and legal advocacy to protect and advance the civil rights of everyone in Texas, and we partner with communities across the state to serve the rising movement for social justice. We undertake our work with a vision of a Texas in which all communities can thrive with dignity, justice and without fear.
About SMU First Amendment Clinic
SMU Dedman School of Law's First Amendment Clinic opened in Fall 2020, thanks to a generous gift of $900,000 from the Stanton Foundation. The Clinic focuses on First Amendment issues including free speech, freedom of the press, and freedom of assembly and petition.
About Walter Kraus & Paul
Waters Kraus & Paul is a national plaintiffs' law firm concentrating on a diverse practice of complex product liability, toxic tort, qui tam whistleblower, and personal injury/wrongful death cases. With offices in Texas, California, and by appointment in Illinois, Waters Kraus & Paul has litigated cases in jurisdictions across the United States on behalf of individuals from all 50 states and internationally.