Earlier this week, two former WeWork employees filed gender and age discrimination suits against the company.
---
WeWork is at the center of two lawsuits alleging gender and age discrimination. The suits were filed by two former executives, Richard Markel and Lisa Bridges.
According to the suit filed by Markel, who is a former vice president for the company, he was "discriminated against for his age shortly after he began working for the company a year earlier." He began working for WeWork back in 2018 when the company acquired "part of a construction company he worked for." When he was hired by WeWork, Markel was them moved from New York to San Francisco. Unfortunately, shortly after he arrived at the San Francisco office, WeWork "hired someone 20 years younger than him with the same title and he found he soon stopped being invited to company meetings." He was never told why and, in January 2019, "internal systems showed that Markel reported to the new worker, and he was no longer getting invited to meetings."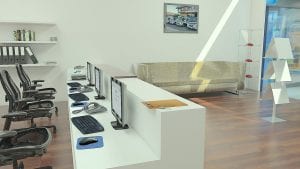 Frustrated, Markle went to his HR department and voiced concerns that he felt he was being discriminated against for his age. In response, he was told his position was being eliminated in April, "less than a month before he would have started receiving stock options under a vesting schedule."
Bridges filed the gender discrimination suit. A former WeWork executive responsible for overseeing compensation and benefits, Bridges alleges she "faced retaliation after reporting evidence she found that suggested gender pay discrimination at the company." For example, in one case she discovered "that a woman working the same job as a man at WeWork's U.K. offices made a salary of $85,000, while the man in the same job made a salary of $123,000."
Upon reporting the particular pay discrepancy, along with other examples of gender discrimination, Bridges alleges she was "told by WeWork's current co-president, Jennifer Berrent, that the reason for the pay gap was that men take risks and women don't."
Not long after reporting her discoveries, Bridges' began noticing an unpleasant development. For starters, she noticed she was being left out of meetings at WeWork. Eventually, she was even put on leave for allegedly breaching WeWork's confidential policy. Those events prompted her to file her gender discrimination suit.
How did WeWork respond to the two suits, though? Well, so far representatives with the company have called the suits meritless. However, both cases are proceeding. What do you think? If the allegations put forth by Bridges and Markle are true, were they discriminated against? Do they have a case?
Sources:
WeWork is being sued for age and gender discrimination