A woman who was abused by a priest and kept it a secret for seven decades gets a six-figure settlement.
---
An 85-year-old Pennsylvania woman who is referred to in court papers only as 'Jane Doe' recently received a large settlement after keeping the abuse of a priest a secret for nearly seven decades.  She claims Reverend Martin J. Fleming sexually abused her at just six years old.  It would take a near-death experience to decide to finally come forward.
"Fleming in 1940 committed "two acts of childhood sexual abuse against 'Jane Doe' after her mother passed away," attorney Michael Garabedian said. "She has been attempting to heal ever since."  He revealed his client was awarded a "six-figure settlement."
Garabedian's efforts to fight against clergy sexual abuse were at the center of an Oscar-winning movie "Spotlight."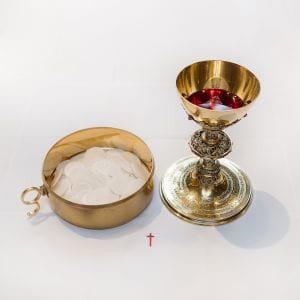 "The sexual abuse of any child is wrong.  The sexual abuse of a child by a member of the clergy, no matter when it occurred, is particularly abhorrent," the Diocese of Scranton said, adding, "The Diocese applauds her strength for coming forward and hopes that the compensation aids in her healing."
Fleming was assigned to Holy Name Parish in Swoyerville, Pennsylvania, at the time of the alleged abuse.  He passed away in 1950.  But Fleming, who was born May 2, 1869, and ordained in 1898, is on the Scranton diocese's list of priests accused of sexually abusing minors.  The Independent Survivors Compensation Program has paid out nearly $7 million to 44 survivors to date.  The program was established in January of this year "to bring some peace and healing to survivors," explained the Diocese.
"She's as strong as an ox but she is terrified about anybody finding out that she was a victim, there is still a lot of shame there," said Robert Hoatson, a former New Jersey priest and clergy sexual abuse survivor.  Hoatson manages the Road to Recovery, an organization that helps other victims.  He added, "She is not the oldest victim to come forward, but she is definitely among the oldest I have spoken with."
Fleming's accuser first told her story to a representative from the Diocese of Venice, Florida, which subsequently reported it on April 14, 2006 to the Diocese of Scranton.  On June 30, 2006, the survivor met with then-Scranton Bishop John Dougherty.
"She noted that she was in heart failure and 'wants to put all of her ducks in a row,'" according to the complaint. "She advised that this deepest secret came back again and again to trouble her spirit and cause her emotional distress."
Dougherty, who retired in 2009, said, "She called the abuse 'an abomination,'" and he expressed his "deep sorrow for the wounding of her child self," urging for her to meet with a female therapist or trusted female friend.
Fleming served as a priest in eastern Pennsylvania from 1898 until he died.  Hoatson, who works with Garabedian, said he "is not aware of any other abuse complaints against Fleming" but added, "I'm sure my phone will start ringing once this story comes out."
"As a Church, we must recognize the burden of what has happened and continue to encourage anyone who may be a survivor of abuse to come forward," the Diocese of Scranton said.
Sources:
Woman who kept her abuse by a priest secret for 66 years gets six-figure settlement
Eight decades after long-secret priest abuse, 85-year-old woman gets her due